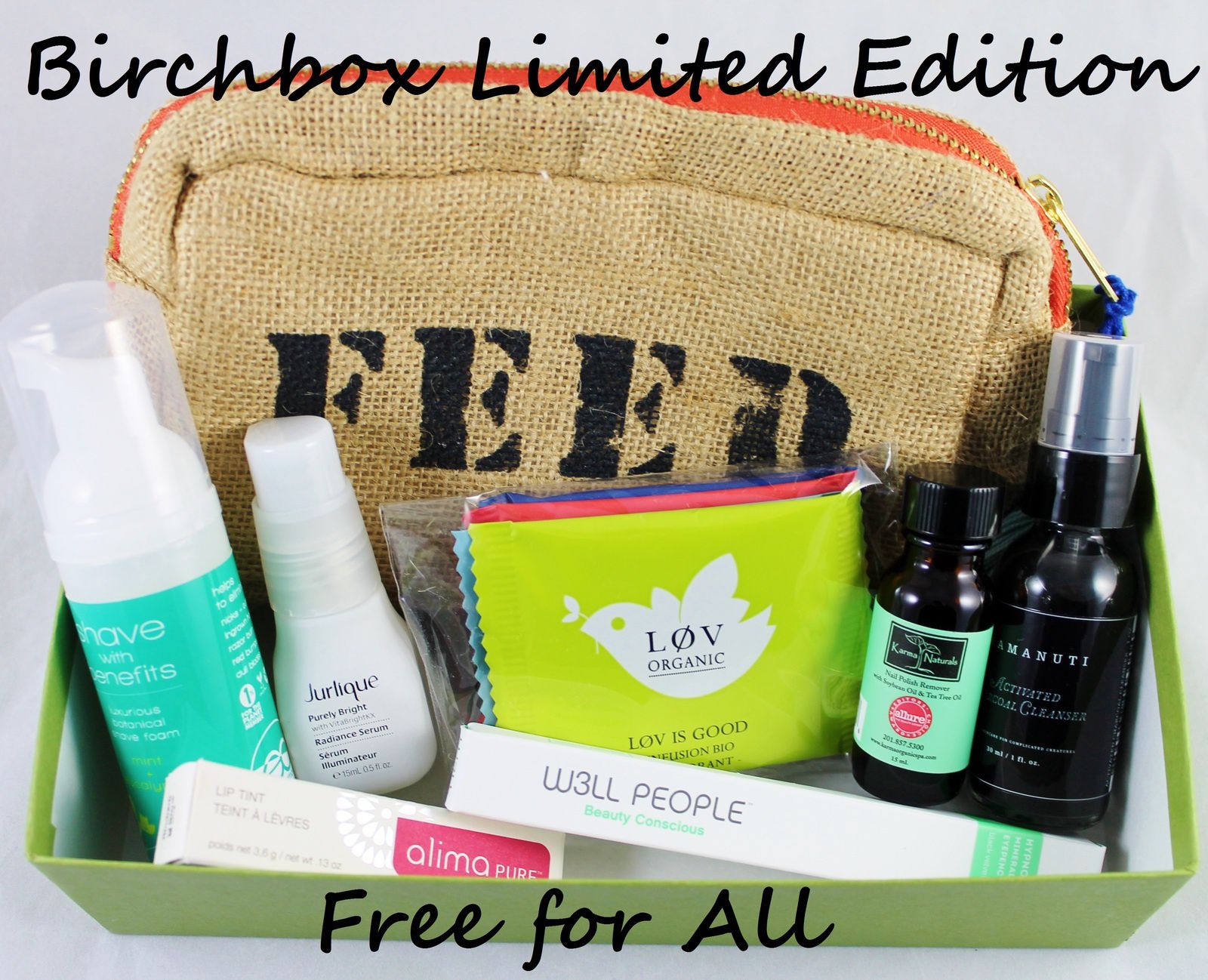 Je suis sure que vous connaissez Birchbox pour sa box beauté mensuelle, mais saviez-vous que Birchbox fait aussi des box en édition limitée. Elle sont plus chères que la box mensuelle, mais elle contiennent plus de produits, et principalement des full size. J'ai commandé la dernière box en edition limitée, Free for All, car elle ne contient que des produits sans parabens, phthalates, sulfates, derivés petrochimiques ou OGM. J'ai la peau sensible et atopique (et en plus je suis allergique aux fragrances synthétiques) j'essaye donc (la plupart du temps) d'acheter des produits Bio. Cette box était donc parfaite pour moi, elle m'a quand même coûtée $44 (livraison incluse) mais j'en suis très contente. Petit récapitulatif en image de ce que j'ai reçu.
I'm sure you know Birchbox for its monthly beauty box, but did you know that Birchbox also sells limited edition boxes. They are more expensive than the monthly box, but contain more products, and mainly full size. I ordered the last limited edition box, Free for All, as it contains only products without parabens, phthalates, sulfates, petrochemicals derivates or GMOs. I have sensitive and atopic skin (plus I'm allergic to synthetic fragrances) so I try (mostly) to buy organic products. This box was so perfect for me, it cost me $44 (shipping included) but I am very happy. Let's see a litlle summary of what I received.
Tout d'abord j'ai reçu un joli petit sac FEED 10. FEED est uneentreprise sociale qui crée des produits qui aident à combattre la faim dans le monde. À ce jour, FEED a permis de fournir plus de 75 millions de repas à l'échelle mondiale. Ce petit sac est en vente sur le site de Birchbox pour $16 et avec chaque achat de ce FEED 10, permet de financer 10 repas. Je trouve l'initiative géniale, c'est une excellente façon de soutenir une bonne, et je rajouterai un objet FEED à ma prochaine commande Birchbox (ils ont aussi d'autres sacs et des bracelets sur le site, lien à la fin de cet article). Ensuite j'ai reçu une mousse à raser eco-armour, un sérum Jurlique, un dissolvant Karma Organic Spa, un nettoyant pour le visage Shamanuti, des petits sachets de thé et infusions, un baume teinté Alima Pure et un crayon eyeliner W3LL People. J'ai déjà entamé les thés (j'adore le thé) et j'ai essayé le dissolvant naturel, je suis bluffée car il enlève aussi bien le vernis qu'en dissolvant normal (sans acétone, l'acétone bien sur il n' a rien de mieux mais c'est pas bon pour mes cuticules). Je vais définitivement utiliser la mousse à raser (je galère toujours à trouver des mousse à raser sans parfum) et le nettoyant pour le visage (il a l'air sensationnel). Par contre le sérum Jurlique et censé est 100% naturel, je l'ai testé sur le dos de ma main, il sent très fort le parfum chimique malgré le fait que ce soit bien mentionné dans les ingrédients que ce sont des parfums d'origine naturelle. Je n'y crois pas trop mon nez sait maintenant faire la différence et je ne vais pas me risquer à faire un rash cutané à l'utiliser. Pour le maquillage en général je fais moins attention à la sélection de mes produits (sauf pour certains gloss et rouge à lèvre qui clairement sentent le parfum à plein nez), mais je suis super excitée par le baume à lèvre car il ne contient pas de parfum mais de l'huile de cacaoyer et du coup il sent le chocolat !!! C'est génial, en plus la formule est parfaite je l'adore. Le liner est de très bonne qualité aussi et je vais l'utiliser pour sur mais je suis moins enthousiaste que pour le baume. En résumé cette box est vraiment parfaite pour moi, les produits sélectionnés sont de super qualité et ne feront pas de mal à ma peau hyper sensible et c'est ça qui compte !
First I got a cute little bag FEED 10. FEED is a social company that creates products that help fight hunger around the world. To date, FEED has provided over 75 million meals worldwide. This little bag is for sale on Birchbox website for $16 and every purchase of this FEED 10 pouch helps to fund 10 meals. I think it is a wonderful initiative is a great way to support a good cause, and I'll add a FEED product to my next Birchbox order (they also have other bags and bracelets on the site, link at the end of this post). Then I received a eco-armour shaving foam, a Jurlique serum, a Karma Organic Spa nail polish remover, a Shamanuti facial cleanser, some tea and infusions bags, a Alina Pure tinted lip balm and a W3LL People eyeliner pencil. I already used some of the teas (I love tea) and I tried the natural nail polish remover, I'm blown away because it removes nail polish like a regular nail polish remover (without acetone, there is nothing better than acetone but it's not good for my cuticles). I will definitely use the shaving cream (I always have a hard time to find shaving cream without fragrance) and facial cleanser (it looks amazing) . The Jurlique serum is expected to be 100% natural, I tested it on the back of my hand,and it as a very strong smell of chemival fragrance despite the fact that it is well mentioned in the ingredients that fragrances used are 100% natural. I do not really believe it because my nose now know the difference and I will not venture to develop a skin rash by using it. For makeup I generally pay less attention to the selection of my products (except for some gloss and lipstick that clearly smell fragrance full nose ), but I 'm super excited about the lip balm because it does not contain fragrance but cocoa oil and it smells like chocolate ! It's great, plus the formula is perfect I love it. The liner is also very good and I will use it too but I am less enthusiastic than for the balm. In summary this box is really perfect for me, the selected products are top quality and will not harm my hyper sensitive skin and that's what is important!
Close reading is for English class-not shopping for beauty products. We created this ingredient-conscious collection to save you from squinting at labels. After doing some digging, we learned that ...
Birchbox helps you find products that you'll love. Try our monthly subscription service, explore our personalized shop, or start with our editor tips and tricks.