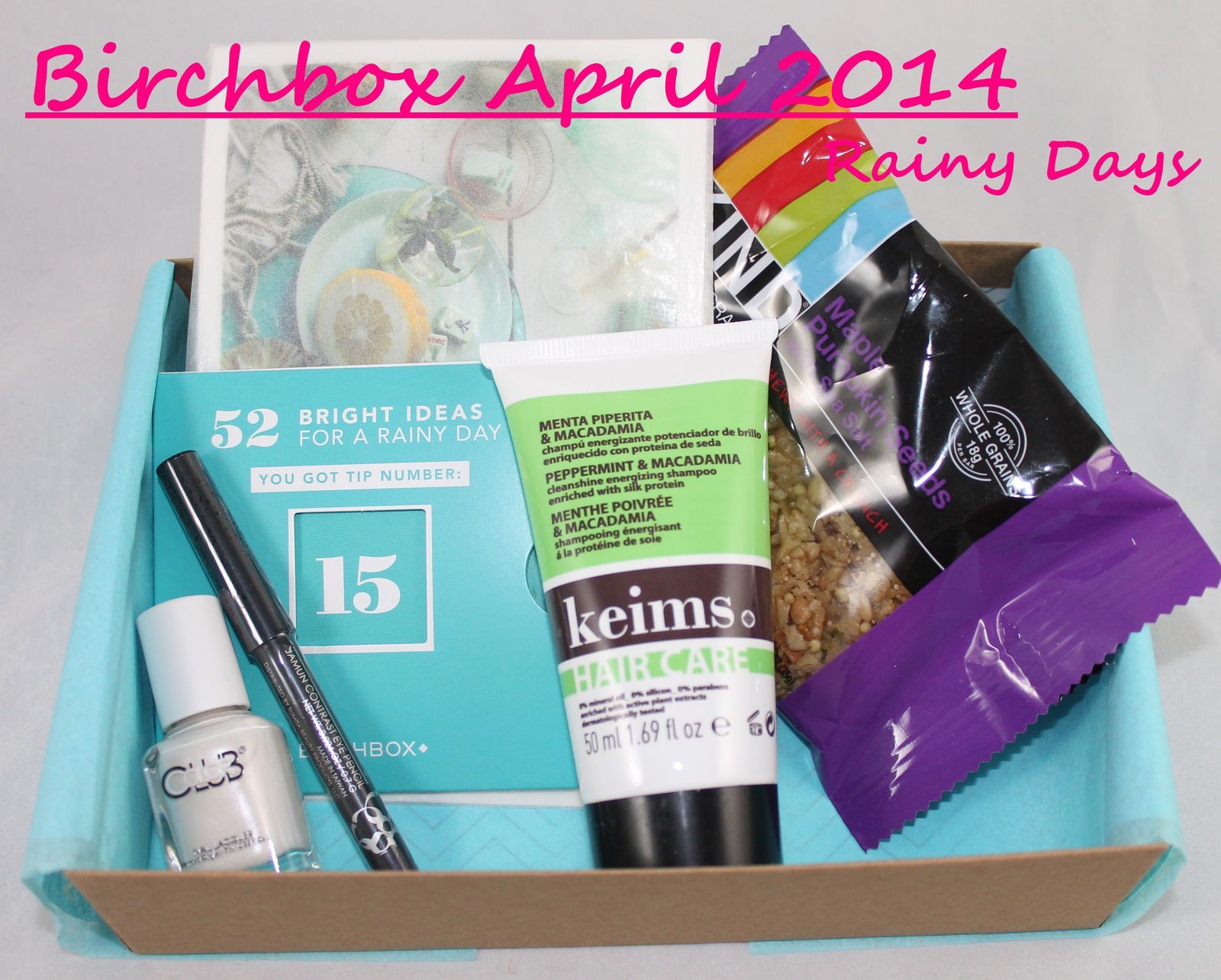 Comme vous le savez j'ai recommencé mon abonnement chez Birchbox le mois dernier, et ce mois-ci le thème c'est les jours pluvieux. Personnellement je trouve le thème moyen mais bon. Ce qui nous intéresse ici c'est le contenu de la box. Comme pour le Ipsy Glam Bag j'ai rempli un questionnaire à mon inscription, mais la sélection c'est échantillons chez Birchbox est à mon avis plus complexe car il ont beaucoup plus de diversité dans leur échantillons. Ceci dit il y a bien une question du type "quel produits préférez-vous recevoir", bien sur j'ai dit que je ne voulais pas de parfum (je suis allergique, mais apparemment le minimum c'est 6 échantillons de parfum par an c'est écrit dans le questionnaire, donc un parfum tous les 2 mois) et que j'étais plutôt intéressée par des soins que du maquillage (juste parce que j'en reçoit déjà beaucoup avec Ipsy). Bon alors visiblement le parfum un mois sur deux c'est bien ça car ce mois-ci j'ai reçu un échantillon de parfum (qui sent bon mais je suis allergique), Un mini vernis Color Club (youpi), un shampoing (qui contient du parfum pas de bol), un crayon eyeliner couleur prune (j'adore) et une barre de céréale. Bon de la nourriture dans une box orientée 100% beauté je trouve ça bof, je suis super contente pour le vernis et le crayon eyeliner, mais le shampoing et le parfum je ne les utiliserai définitivement. Bilan mitigé dans ce mois-ci. Globalement je trouve la Birchbox moins bien que Ipsy, je ne suis pas sure de restée abonnée, j'attends de voir la box de Mai, mais si c'est comme ce mois-ci je vais surement annuler (encore) et essayé une autre box.
As you know I restarted my subscription to Birchbox last month, and this month the theme is rainy days. Personally I don't really like the themebut whatever. What is interesting for us here is the contents of the box. As for Ipsy Glam Bag I filled out a quizz at the suscription, but the selection is samples from BirchboxI think is more complex because they have much more diversity in their samples. That said there has a question such as "what type of products would you prefer to receive" , of course I said I did not want perfume (I'm allergic, but apparently the minimum is 6 perfume samples per year it is written in the quizz, so a perfume every 2 months) and I also mentionned that I was rather interested in skincare than makeup (just because I already receives a lot of makeup with Ipsy). Okay so obviously a perfume every other month is true because this month I received a sample of perfume (which smells good but I am allergique) , a mini Color Club (yay), a shampoo (which contains fragrance no luck) , an eyeliner pencil in plum color (I love it) and a cereal bar. So food in a 100% oriented beauty box I find it middling, I'm super happy for the polish and the eyeliner pencil, but the shampoo and the perfume I will definitely not use them. Mitigated box in this month. Overall I think that Birchbox is not as good as Ipsy, I 'm not sure I will keep this suscription, I will wait to see the box for May , but if it is like this month I 'll probably cancel (again) and try another box.
Birchbox helps you find products that you'll love. Try our monthly subscription service, explore our personalized shop, or start with our editor tips and tricks.