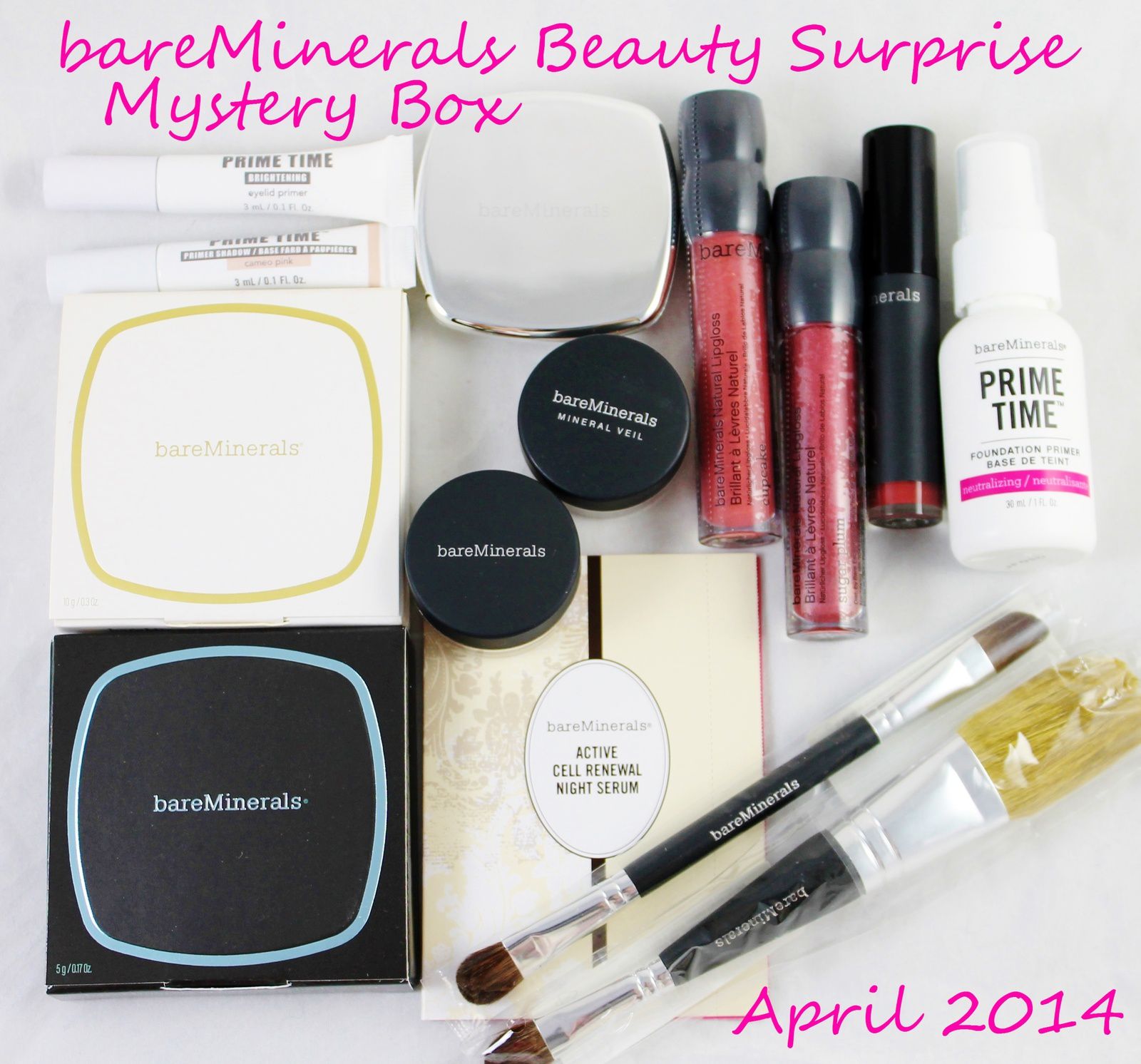 Cette mystery box bareMinerals n'est pas à proprement parler un abonnement mais plutôt une box exclusive, proposée à la vente de temps en temps pour un prix ridicule ($45) pour le nombre de produits reçus (d'une valeur de $239). Vous n'avez pas le choix des produits (d'où le terme mystery) et les produits sont différents à chaque nouvelle sortie de la mystery box. Elle se vendent très vite mais j'ai eu la chance de pouvoir un acheter une. J'ai toujours entendu parler en bien de bareMinerals et comme je renouvelle un peu mon stock de produits de beauté en ce moment je voulais tester cette marque, et en plus c'est du maquillage "minéral" et ma peau aime beaucoup de genre de produits. J'ai un peu halluciné sur le nombre de produits reçus et je voulais vous faire un petit récapitulatif et vous donner mon avis bien que je n'ai pas encore testé les produits sur le long terme.
This mystery box from bareMinerals is not strictly speaking a suscription box, but rather an exclusive box released from time to time for a ridiculous price ($45) if you consider the number of productsreceived and their value ($239). You do not have the choice of products you will receive (hence the term mystery) and the products are different with each new release of the mystery box. It always sells out very quickly but I had the chance to be able to buy one. I've always heard good things about bareMinerals and as I renew beauty products stash at the moment I wanted to try this brand, plus it is makeup "mineral" and my skin like a lot of kind of products. I did not belive the number of items I received and I wanted to give you a little summary and share my opinion although I have not tested the products on the long term yet.
J'ai reçu cet illuminateur de teint et cette palette de fards à paupières avec des couleurs très chaudes. J'adore le packaging et les couleurs. L'illuminateur de teint est de la couleur The Love Affair, il semble foncé (plus comme un bronzer) mais en fait il est juste parfait, pas trop marron, très lumineux, un peu doré, c'est vraiment une couleur que je vais utiliser sans modération. La palette de fards à paupière est également très sympa, ce sont des couleurs très chaudes que je pense surtout utiliser cet été quand je serais un peu bronzée, parce qu'avec ma peau très pâle les couleurs dorées et orangées me donne un air malade. Mais pour cet été ça sera juste parfait ! Les couleurs sont Rising Star (doré un peu jaune), Hoopla (doré un peu bronze), Smash Hit (Orange mat) et Ensemble (Aubergine mat). Ils sont bien pigmenté, je les ai testé sur ma main sans base et les couleurs ressortent bien. J'ai hâte de les essayer !
I received this luminizer and eyeshadow palette with very warm colors. I love the packaging and colors. The luminizer is in the color of The Love Affair, it looks dark (more like a bronzer) but in fact it is just perfect, not too brown, very bright, a little golden, it's really a color I will use without moderation. The eyeshadow palette is also very nice, they are very warm colors and I think I will mostly used when I will be a little bit tanned, because with my very fair skin golden color and orange gives make me look sick. But for this summer it will be just perfect! The colors are Rising Star (golden yellow) Hoopla (golden bronze) Smash Hit (Matte Orange) and Ensemble (Matte eggplant color). They are well pigmented, I tested them on my hand without primer and colors stand out well. I can not wait to try them!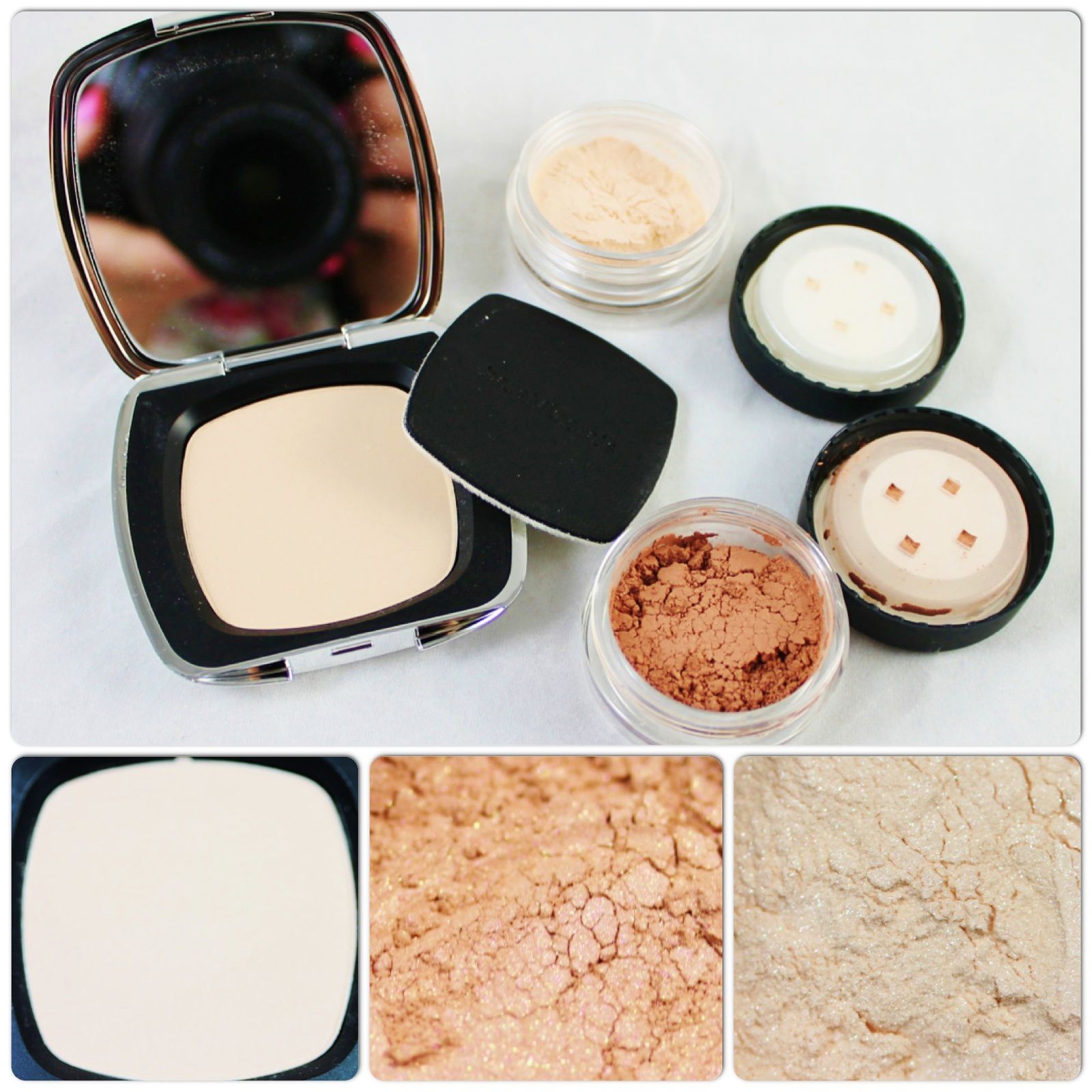 READY Illuminating Touch Up Veil (Translucent), Illuminating Mineral Veil & All-Over Face Color (Bare Radiance)
Encore des illuminateurs de teint avec d'abord ce voile caresse illuminateur transparent compact. Il est beaucoup plus neutre que le précédent (The Love Affair), très mat, parfait à utiliser comme finition après le fond de teint. J'ai aussi reçu ce voile minéral illuminant en petit pot, c'est presque la même texture mais il est beaucoup plus iridescent et plus perlé, donc celui-ci je pense l'utiliser plus sur des zones à illuminer que sur tout le visage comme le premier. Et enfin une poudre effet bonne mine (un bronzer quoi), mais il n'est pas trop foncé et un peu doré. Il est définitivement plus foncé que l'illuminateur de teint que je vous ai présenté en premier, donc je le garde pour cet été. Et je pense que je peux aussi m'en servir de fard à paupière car il a vraiment une jolie couleur.
More luminizers with the translucent Illuminating Touch Up Veil. It is much more neutral than the previousone (The Love Affair), very matte, perfect to use as a finish after foundation. I also received this Illuminating Mineral Veil in a small pot, it's almost the same texture but it is much more iridescent and pearly, so I think it use more on specific areas than to illuminate the entire face. And finally a All-Over Face Color (a bronzer), but it is not too dark and a little golden. It is definitely darker than the READY Luminizer that I presented to you first, so I keep it for this summer. And I think I can also use it as an eyeshadow because it has a really nice color.
Pour appliquer tous ces illuminateurs et bronzers, j'ai reçu 2 pinceaux, les deux sont des 2-en-1, celui pour le visage est vraiment génial, celui pour les yeux il est bien mais j'ai mieux, et les pinceaux de contour et finition je ne sais pas trop comment je vais les utiliser (je ne fais pas de contouring) mais ils sont vraiment de bonne qualité.
To apply all these luminizers and bronzers, I received two brushes, both are double end, the face one is really great, the eye one is good but I have better, and for the Contour & Define brushes I do not know how I'm going to use them (I do not do contouring) but they are really good quality.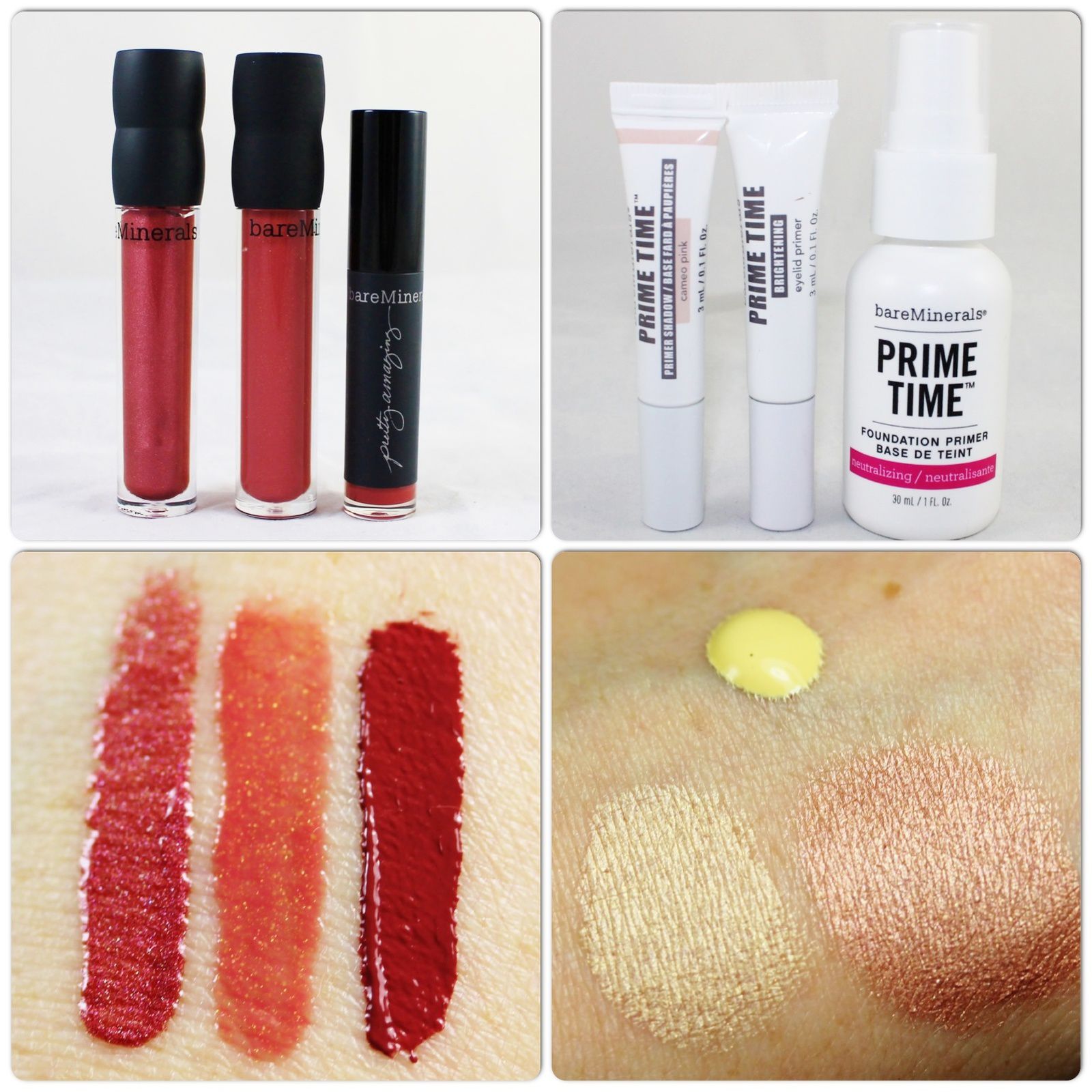 Natural Lipglosses (Sugar Plum & Cupcake) & Pretty Amazing Lip Color (rouge) / Prime Time Primers (Brightening & Caneo Pink Eyelid Primers, Foundation Primer)
J'ai reçu 2 gloss et un rouge à lèvre, je déteste les couleurs donc je ne les utiliserai pas (et en plus ils sont parfumés). Par contre j'ai aussi reçu 2 bases pour les paupières et une base pour le visage, et ça j'adore. J'ai déjà une base pour les yeux mais elle est neutre, celles-ci sont colorées et je pense que ça va me servir pas mal, et la base pour le visage est est bien jaune, mais une fois appliquée sur la peau la couleur s'estompe et elle ne donne pas un teint jaune (c'est une base neutralisante). Elle est vraiment bien je l'ai testée une seule fois mais je l'aime beaucoup car elle n'est pas trop sèche ni trop grasse et c'est vraiment parfait pour ma peau. Et puis j'ai aussi reçu ce petite échantillon de sérum régénérant il a l'air pas mal.
I received 2 glosses and one lipstick, I hate the colors so I will not use them (plus they are scented). But I also received 2 eyelids primers and a face primer, and I love them. I already have a eye primer but it is neutral, those are colorful and I think they will be very useful, and the face primer is yellow, but once applied and blended onto the skin the color fades and does not give a yellow complexion (it is a neutralizing primer). It is really good I tested it once, and I really like it because it is not too dry or too oily and it is really perfect for my skin. And I also received a sample of Active Cell Renewal Night Serum it sounds amazing.
En résumé j'ai reçu beaucoup de produits supers, plein de produits pour le teint et je suis contente ça change des box beauté dans lesquelles je reçois souvent des liners, fard à paupière et rouge à lèvre mais rarement ce genre de produits. je vais utiliser quasiment tous ces produits (a part les gloss et le rouge à lèvre) et si je'en suis contente sur le long terme je vais surement passer une commande chez bareMinerals pour tester d'autres produits. (Je vous mets le lien vers le site de bareMinerals si vous voulez en savoir plus sur leur produits)
In summary I received a lot of great products, including lots of products for the face and I'm glad it changes from the beauty boxes in which I often receive eyeliners, eyeshadow and lipstick but rarely these products. I will use almost all of these products (aside from the glosses and the lipstick) and if I am happy with them I'll probably place an order on bareMinerals to try more products. (I'll put the link to bareMinerals website if you want to know more about their products)
Mineral Foundation & Makeup | bareMinerals
Discover Bare Escentuals: the leader in mineral makeup. Buy our mineral makeup or skincare products online or find a store near you to shop in person.