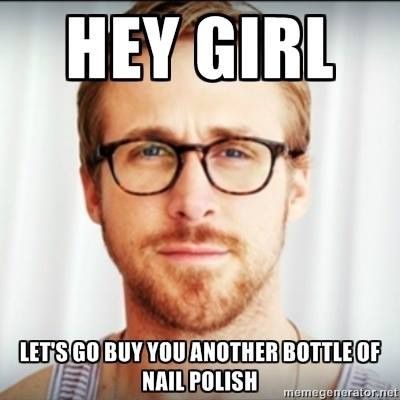 Voici encore un épisode épique de mes achats du mois ! Épique parce que le mois dernier j'ai découvert Lilypad Lacquer et que ce mois-ci j'en ai acheté des tonnes ! Çà plus quelques achats par-ci par-là et bien ça fait beaucoup, comme d'habitude quoi ! Je disais donc beaucoup de Lilypad, 25 pour être exacte, acheté chez plusieurs revendeurs (Llarowe, Beauty So Fly et autres blog sales). je ne peux pas m'en empêcher ces vernis sont tellement beaux que je les veux tous, et j'attends avec impatience qu'elle restocke sa boutique etsy pour en acheter pleins d'autres !
Here is another epic episode of my monthly haul! Epic because last month I discovered Lilypad Lacquer and this month I bought tons of them! This plus a few purchases here and there and well it makes a lot, as usual! I was saying a lot of Lilypad, 25 to be exact, purchased from several retailers (Llarowe, Beauty So Fly blog and other blog sales). I can not help myself these polishes are so beautiful that I want them all, and I look forward to her next etsy shop restock to buy more!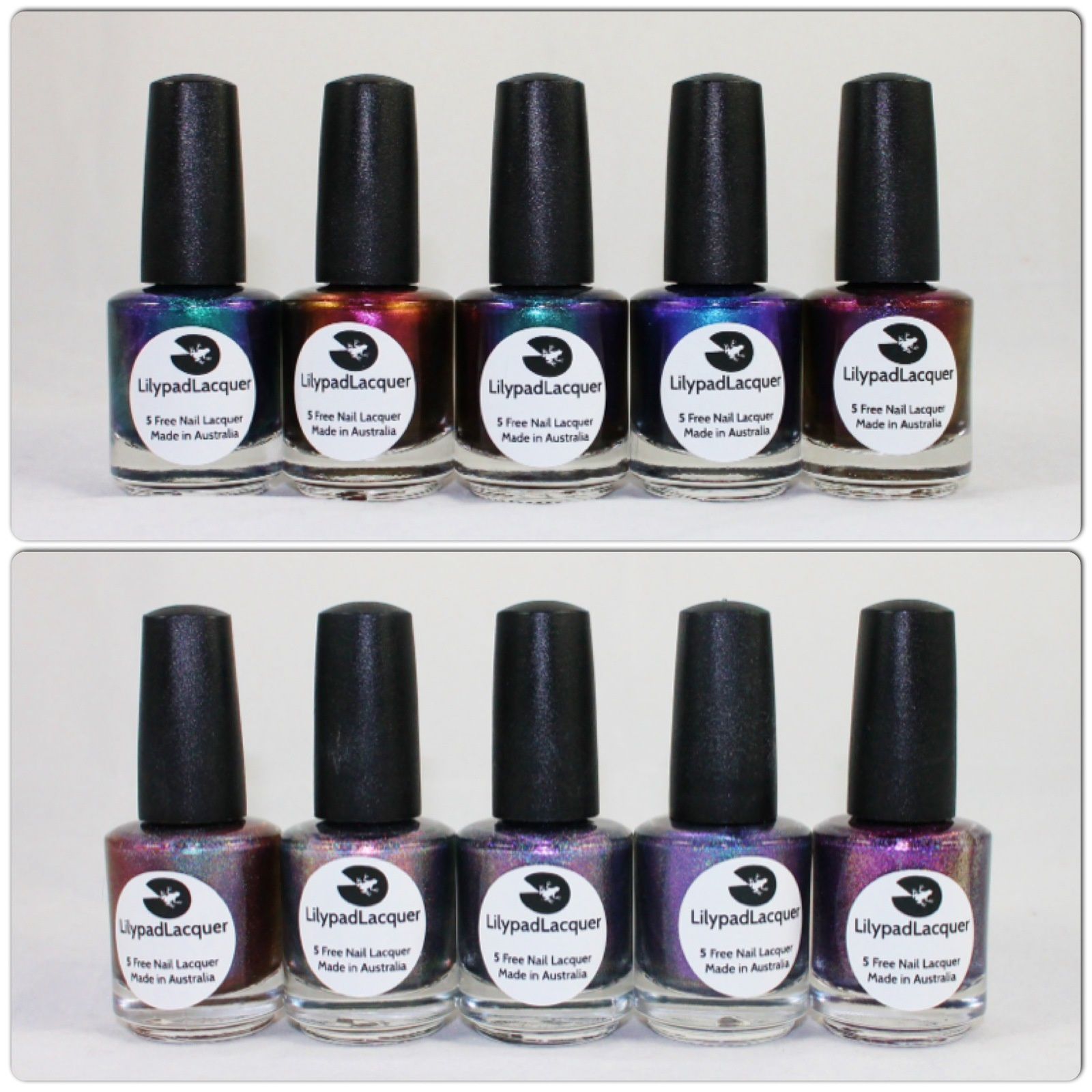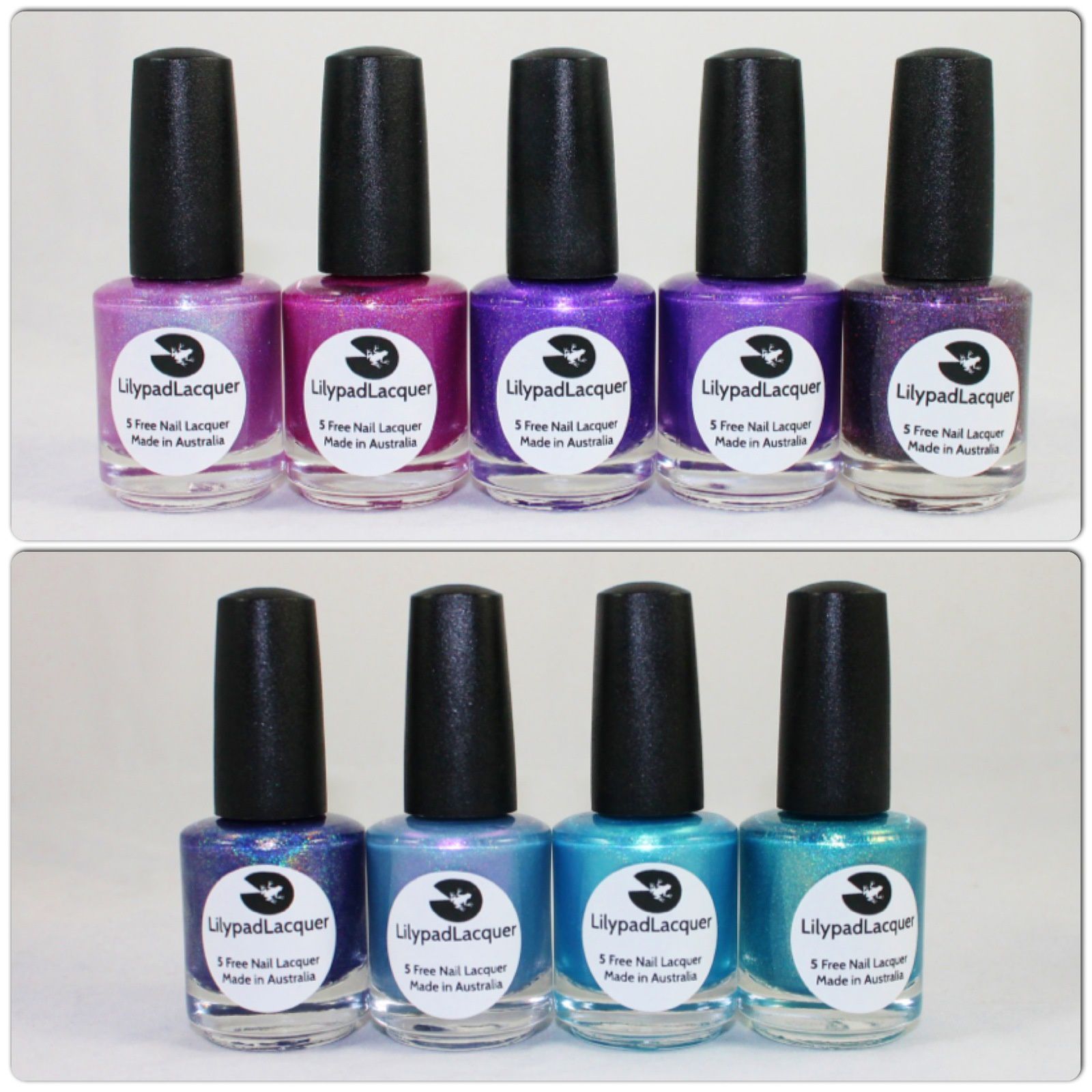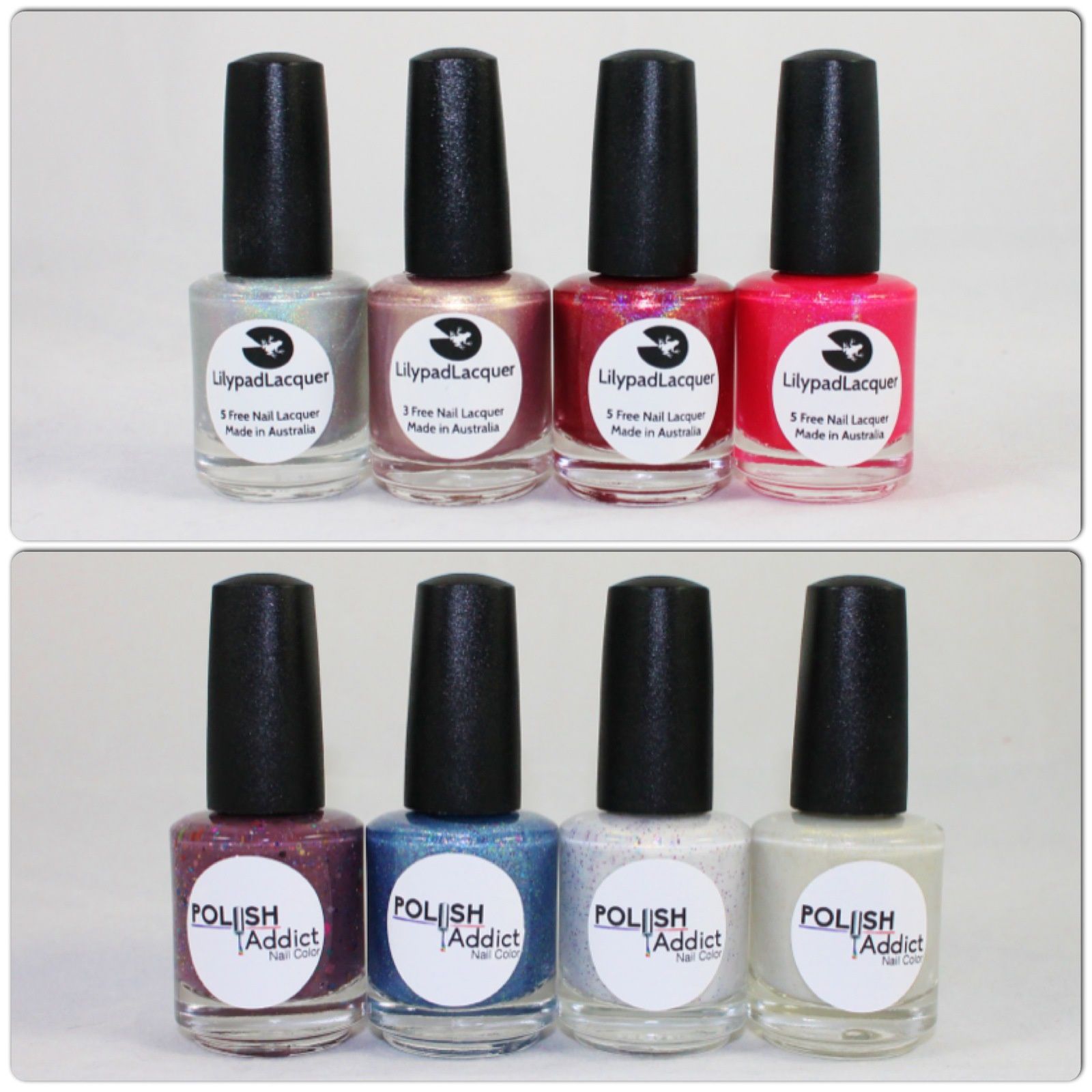 Lilypad LacquerDiving the Maldives, Sunset at Sea, Baltic Blue, Caspian Crush, In a Sea of Violets, Llarowe XOXO, Red Pearl, Black Pearl, Pretty Pearl, Vixens Wear Violet, Lilac BeautyBlooming Violets, You got my Attention, Purple People Eater, Blackberry Beauty, Indigo Love, Oh so Fly, Seascape, Splash, Fairy Footprints, Nearly Nude, Ruby Slippers, Pink Flamingo. Polish Addict Nail Colors Mystery Polish, LE After the Rain, Bad Wolf, Jellyfish I
Bon il n'y a pas que des Lilypad dans mon butin du mois d'avril, il y aussi des PANC (Polish Addict Nail Color), j'en ai commandé 3 et j'ai reçu un mystery polish je suis trop contente il est très joli. Et j'ai aussi commandé la What's Indie Box sur le site de Peita's Polish, et comme c'est une boutique australienne j'ai pris quelques vernis Peita's Polish pour rentabiliser les frais de port.
Well there is not only Lilypads in my April haul, there are also some PANC (Polish Addict Nail Color), I ordered 3 and I got a mystery polish I'm so happy it is very pretty. And I also bought the What's Indie Box on Peita's Polish website, and as it is an Australian shop I also took some Peita's Polish to make the shipping profitable.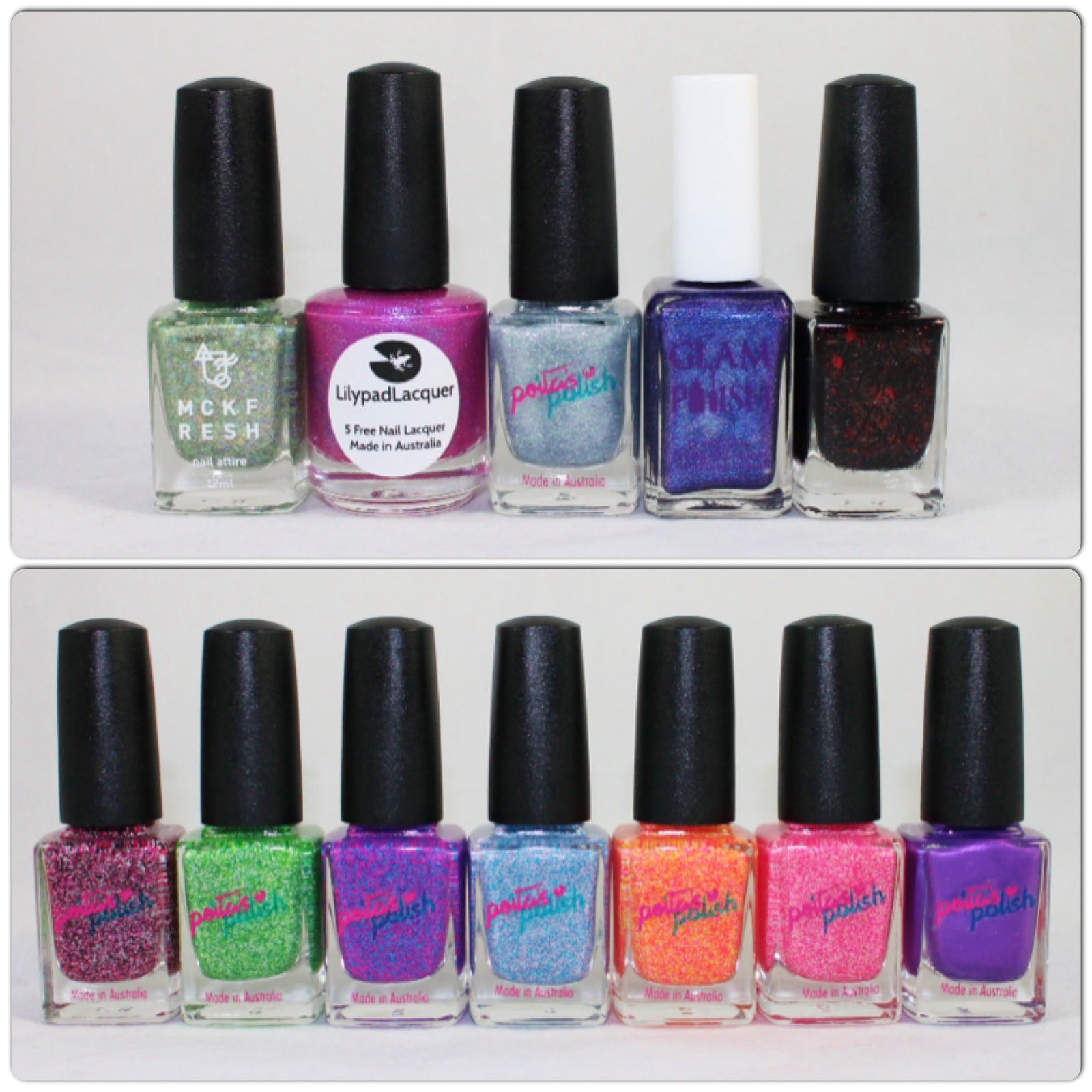 What's Indie Box (April 2014) Lady Scalesby MckFresh Nail Attire, Siren of the Sea by Lilypad Lacquer, Unicorn Whisper by Peita's Polish, Dancing in the Moonlight by Glam Polish & Dragon's Breath by Bella Belle Nail Couture. Peita's Polish Smarty Pants, Peppermint Lane, Jellybean Dream, Sherbet Lollipop, Fizzi-licious, Musk Stinks & Wendy
J'avais ensuite quelques points à utiliser chez Birchbox j'ai donc pris les 2 dernière collection en exclusivité avec Color Club, la Wanderlust et la Gala's Gem. La collection Gala's Gem est parfaite pour le stamping car les vernis ont une formule un peu épaisse et très opaque. J'ai également reçu ma pré-commande d'Enchanted Polish avec Mars et Avril 2014 mais aussi Septembre 2013 que j'ai réussi à acheter pour pas cher sur une blog sale. J'ai beaucoup acheté dans des blog sales ce mois-ci, dont le Orly Liquid Vinyl, le Beach Cruiser je l'ai reçu dans une box beauté.
Then I had some Birchbox points to use so I took the last 2 exclusive collection with Color Club, the Wanderlust and Gala's Gem. Gala's Gem collection is perfect for stamping as varnishes have a thick formula and they are very opaque. I also received my Enchanted Polish pre-order for Mars and April 2014 and I managed to buy September 2013 for cheap on a blog sale. I bought a lot of polish in blog sales this month, like the Orly Liquid Vinyl, and the Beach Cruiser I received it in a beauty box.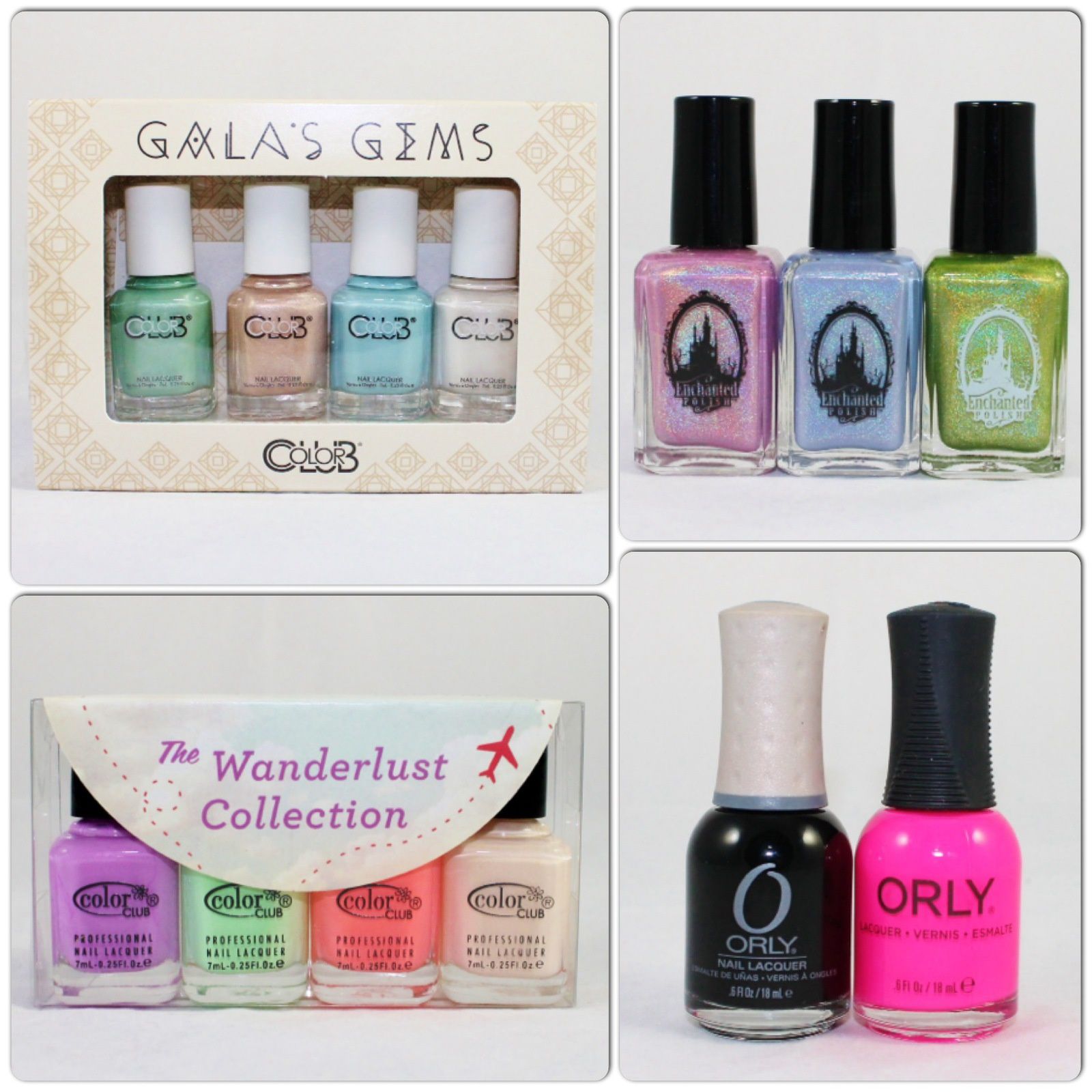 Color Club & Birchix Gala's Gem (Breakfast at..., Gold Struck, Aquamarine Azulino, Heirloom Pearls) & Wanderlust (Pardon my French, London Calling, Reign in Spain, Mod in Manhattan). Enchanted Polish September 2013, April 2014, March 2014. Orly Liquid Vinyl & Beach Cruiser.
J'ai fait quelques achats à target avec ces 3 nouveaux PIXI ultra colorés, 2 nouveaux vernis thermals de chez Polished by KPT, le Jindie Nails exclusif de la dernière Box Indied (je l'ai acheté à une amie), un des derniers vernis duochromes de Different Dimension et 2 vernis Julep de la collection du mois dernier acheté dans une blog sale.
I did some shopping at target and bought these 3 new ultra colorful PIXI, 2 new thermals from Polished by KPT, the exclusive Jindie Nails from the Box Indied (I bought it from a friend), one of the last duochrome by Different Dimension and 2 Julep polish from last month collection bought in a blog sale.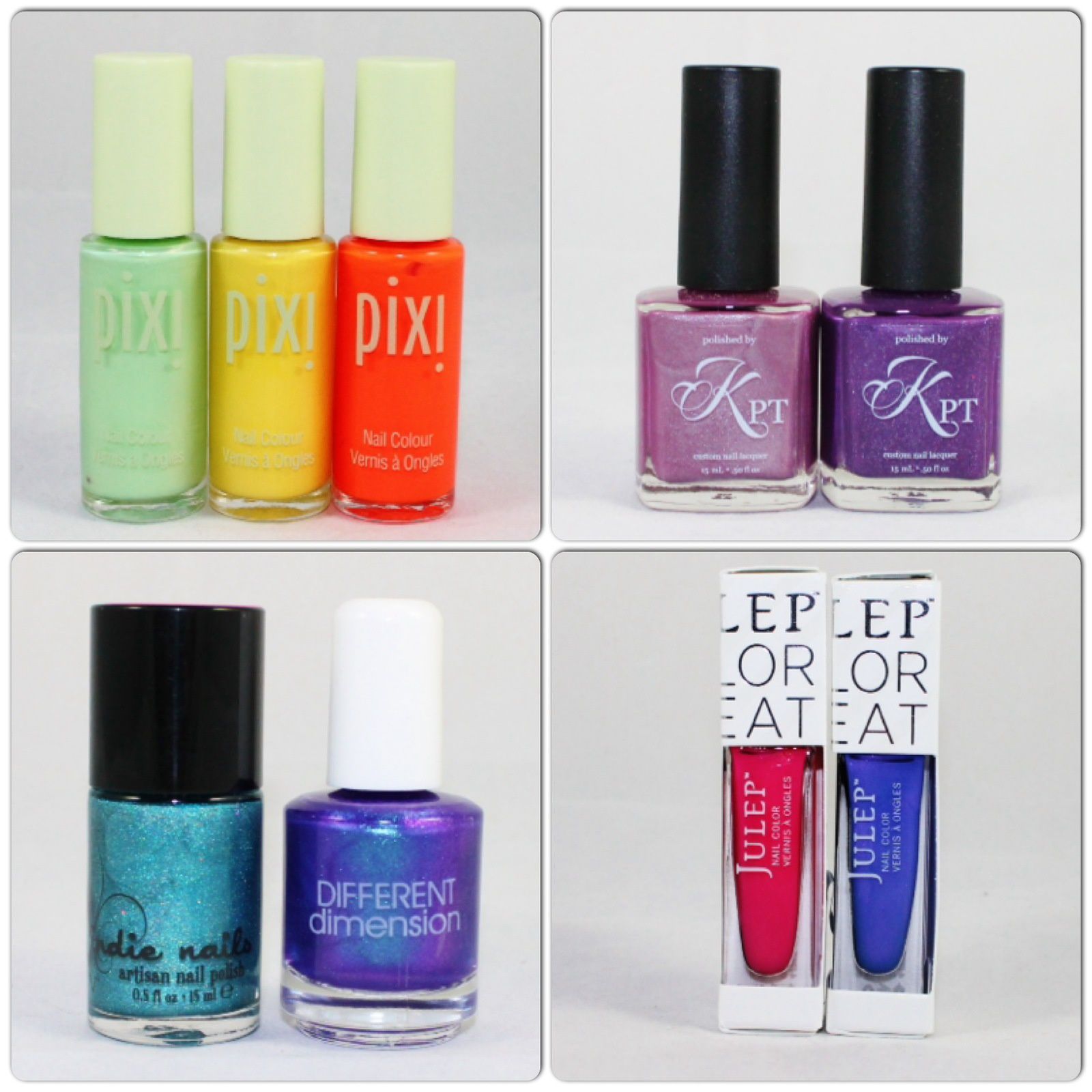 PIXI Lime Lustre, Sizzling Sunshine, Oh so Orange. Polished by KPT Vanda & color me Purple. Jindie Nails Blue & Green's Love Child. Different Dimension Tulips ar ebetter than one.Julep Caitlin &Kayla.
J'ai acheté ces 5 vernis Essence dans une blog sale (3 des 5 étaient sur ma wishlist) et j'ai voulu essayer une nouvelle marque, Bubblelina, j'ai donc acheté 4 minis de sa nouvelle collection. Toujours dans une blog sale j'ai trouvé de très jolis vernis pour presque rien (1 Maybelline, 1 Sinful Colors et 2 Avon). Et j'ai reçu 2 minis vernis Estée Lauder avec des achats de produits pour le visage, le mini Lancôme je l'ai reçu en cadeau dans un de mes swap et le mini NARS je l'ai acheté dans une blog sale.
I bought these 5 Essence polish in a blog sale (3 of the 5 were on my wishlist) and I wanted to try a new brand, Bubblelina, so I bought 4 mini from her new collection. Always in a blog sale I found very nice polish for almost nothing (1 Maybelline, 1 Sinful Colors and 2 Avon). And I got 2 mini nail Estée Lauder as gifts with purchases from skincare I bought, I received the mini Lancôme as a gift in one of my swap and the mini NARS I bought it in a blog sale.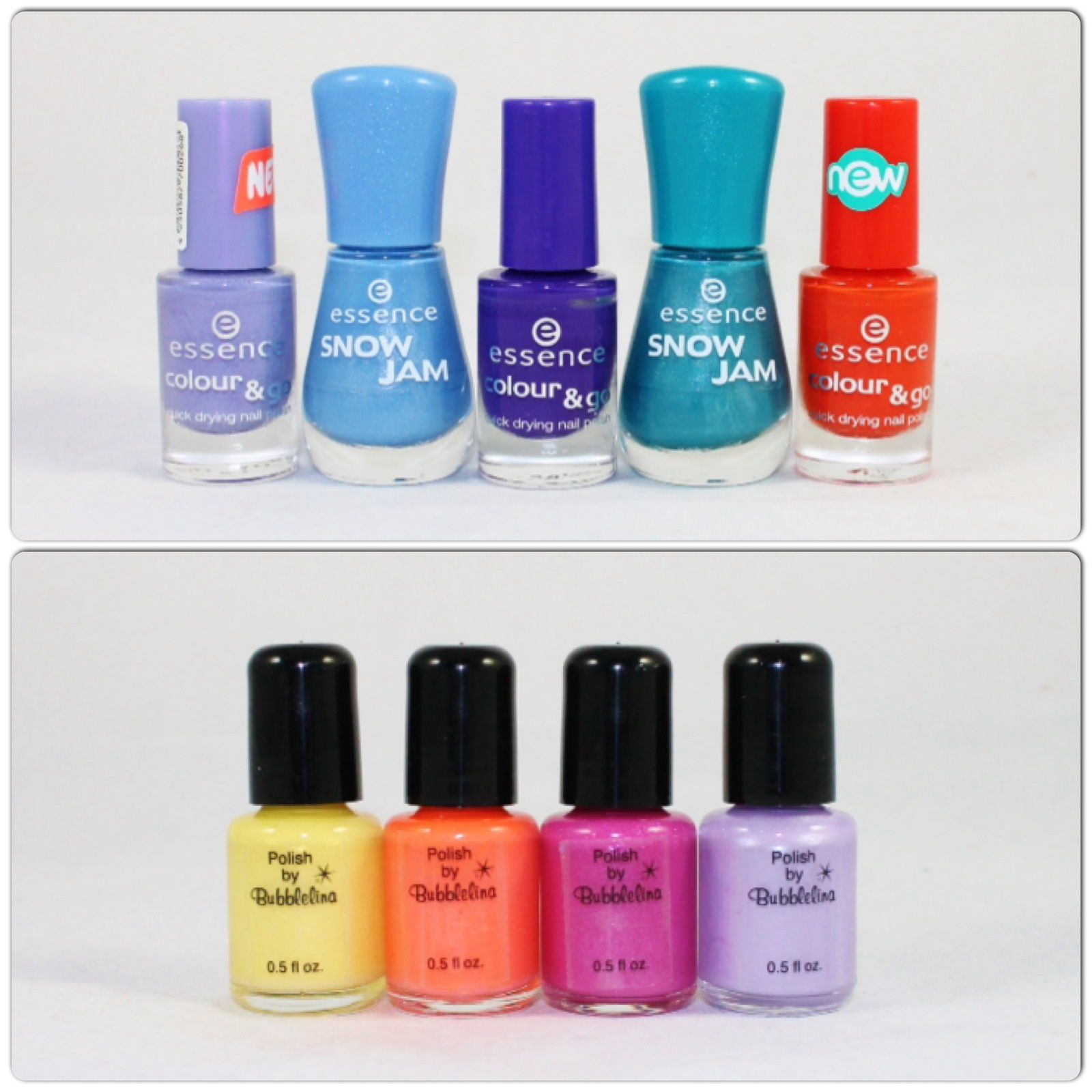 Essence A Lovely Secret, Goofy Blue, Passion for Fashion, Life is a Free Ride, Wake Up! Bubblelina Sine on Em, Mandarin, Chemical Romance (Thermal), Imperial.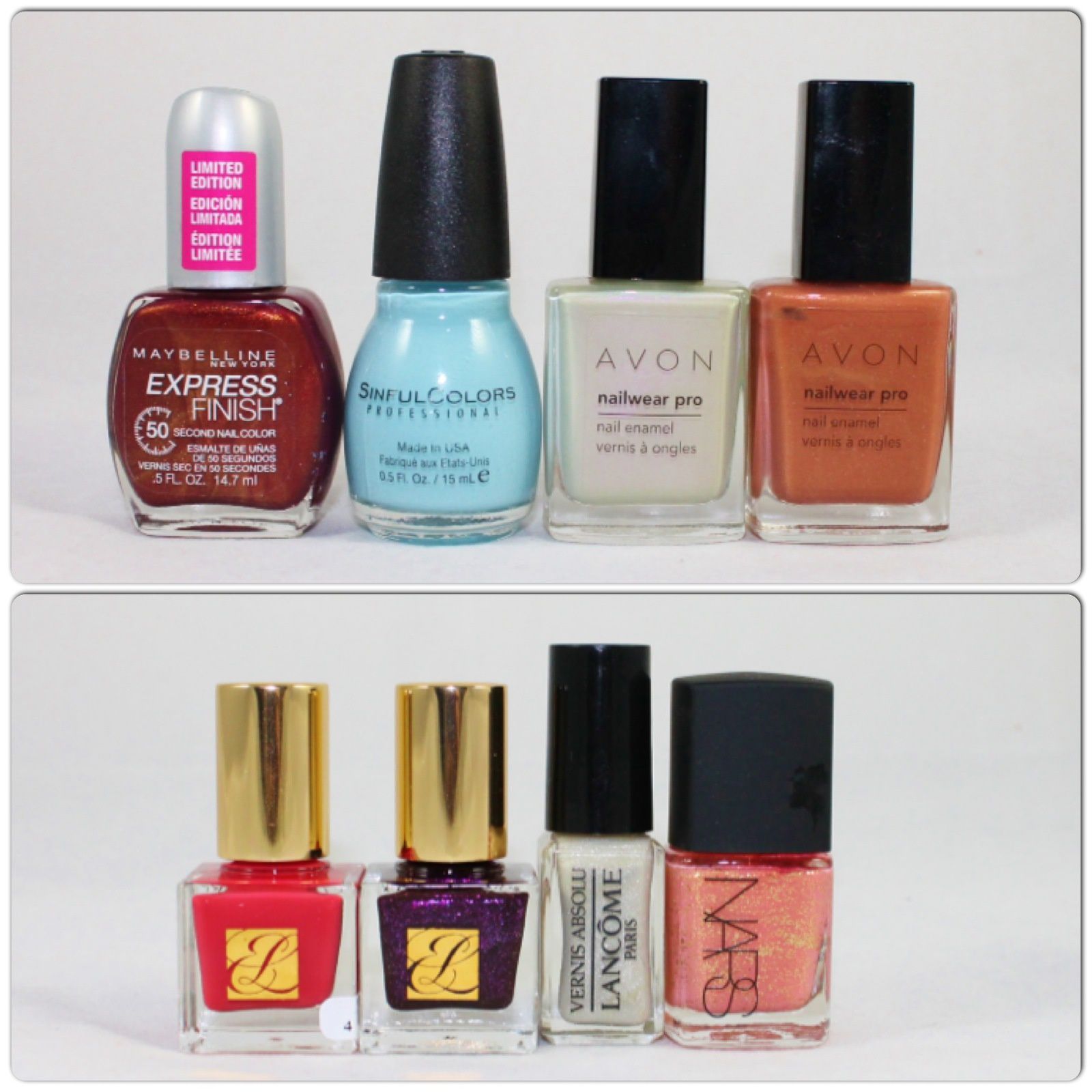 Maybelline Autumn Leaves, Sinful Colors Sugar Rush, Avon Illusion & Golden Sand. Estée Lauder Hot Coral & Smashed, Lancôme Silky Sand & NARS Super Orgasm.
Et enfin pour finir j'ai reçu 2 Nicole by OPI exclusifs (crées avec la marque de chocloat américaine Dove) que j'ai gagné à un de leur giveaway, je suis contente car je voulais vraiment ces vernis ils étaient dans ma wishlist. Voilà c'est tout pour le mois d'avril et c'est déjà pas mal !
And finally finally I received the 2 exclusive Nicole by OPI (created with the American chocloat brand Dove) that I won at a Dove giveaway, I am happy because I really wanted these polishes and they were in my wishlist. That's it for the month of April and it's already kind of a lot!