Comme vous le savez déjà j'ai un faible pour les vernis à paillettes fluos, surtout les crellies de Jindie Nails. C'est pour cette raison que mon Jindie Nails préféré c'est Candy Land. Ce petit vernis Sour Skittle vient en second dans ma liste de favoris. Bien que je ne sois pas une grande fan de la couleur verte, ce petite crelly pastel fluo vert avec son mélange ultra coloré de paillettes a séduit mon petit coeur. C'est un vernis en édition limtée qui n'est malheureusement plus disponible, et je suis super contente d'avoir réussi à le choper car les stocks ont été épuisé en moins d'une demi heure lors de sa sortie. Bon je vais me répéter mais la formule est géniale, sur les photo je porte 2 couches et une couche de top coat. J'aurais pu utiliser mon Glitter Food car le rendu n'est pas totalement lisse, mais qu'importe... Bref je l'aime il est trop beau !
As you already know I have a weakness for neon glitter polish, especially the crellies from Jindie Nails. It is for this reason that my favorite Jindie Nails is Candy Land. This little gem Sour Skittle comes in second in my favotite list. Although I am not a big fan of green, this pretty neon pastel green crelly with its ultra colorful glitter mix seduced my little heart. It is a varnish a limited edition polish and it is no longer available, and I'm really glad I managed to buy one as it sold out in less than half an hour when it was released. Well I'll repeat myself but the formula is great, on the pictures I am wearing 2 coats plus top coat. I could have used my Glitter Food because the result is not completely smooth, but who cares... Anyway I like it very much!
Peel-off Base / Jindie Nails Sour Skittle LE / Poshe Top Coat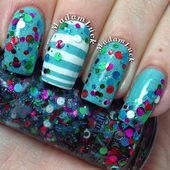 Jindie Nails | Online Nail Polish Boutique. Get Your Sparkle On!
Indie, artisan nail polish line based in Southern, USA. Cruelty & 3-free. Mid size (tall 9ML) & full (15 ML) size options are available in most shades. Website is restocked periodically each month ...