Le vert ce n'est pas ma couleur favorite, loin de là, sauf peut-être le vert pastel ou le vert fluo. Ceci dit comme nous comme le 17 mars, le jour de la Saint Patrick, il fallait bien que je porte du vert, c'est un peu obligé. Et pour cela j'ai le vernis Jindie Nails parfait, Smells like Green Spirit, un vert couleur herbe, crelly (plus jelly que crelly d'ailleurs), plein de paillettes... come je vous disais il est parfait. Je crois bien qu'il ne se fait plus, c'était l'un des premiers Jindies que j'avais acheté (avec Neonderthal). La formule est comme d'habitude pour un jindie, parfaite, le seul petit problème c'est que mon top coat l'a fait se rétracter un peu au niveau du bord libre, en même temps j'avais mis 2 couches bien épaisses (comme je disais il est plus jelly que crelly donc il n'est pas très opaque). Je voulais faire un petit nail art par dessus mais je suis assez occupée en ce moment et j'ai eu la flemme LOL.
Green is not my favorite color, far from it, except perhaps pastel or neon green. That said, as today is March 17, Saint Patrick's day, it was important that I wear green, it's a bit necessary. And for that I have the perfect polish Jindie perfect Smells like Green Spirit, a green grass color, crelly (more jelly than crelly), full of glitter... as I just said it is perfect. I think he is discontinued now, it was one of the first Jindies I bought (with Neonderthal). The formula is asperfect as usual for jindie nails, the only small problem is that my top coat did shrink a little bit the polish at the free edge, maybe because I put two very thick layers (like I said it is more jelly than crelly so it is not very opaque). I wanted to make a small nail art over it but I'm pretty busy at the moment and I was too lazy LOL.
Peel-of base coat / Jindie Nails Smells like Green Spirit / Poshe Top Coat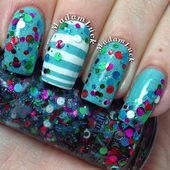 Jindie Nails | Online Nail Polish Boutique. Get Your Sparkle On!
Indie, artisan nail polish line based in Southern, USA. Cruelty & 3-free. Mid size (tall 9ML) & full (15 ML) size options are available in most shades. Website is restocked periodically each month ...