(This nail polish was sent for review by Jindie Nails)
Aujourd'hui je vous présente un petit nouveau de chez Jindie Nails qui n'est pas encore sorti. Il s'appelle Re-fresh to Death, c'est un vernis crelly a base blanche avec des paillettes de différentes teintes de bleu et de violet. Jennifer c'est la reine des vernis crellies, la formule est parfaite, l'application est un délice, pas besoin de fishing et il est opaque en 2 couches. J'aime beaucoup ce vernis, il est très « frais » et original.
Today I introduce you a new pretty by Jindie Nails that has not been released yet. It's called Re-fresh to Death, it is a crelly polish with a white base and glitter in varying shades of blue and purple. Jennifer is the queen of crellies, the formula is perfect, the application is a delight, no fishing needed and it is opaque in 2 coats. I love this polish, it is very "fresh" and original.
Peel-Off Base / Revlon Quick dry base coat / Jindie Nails Re-fresh to Death / Poshe Top Coat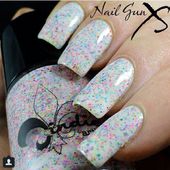 Jindie Nails | Online Nail Polish Boutique. Get Your Sparkle On!
Indie, artisan nail polish line based in Southern, USA. Cruelty & 3-free. Mid size (tall 9ML) & full (15 ML) size options are available in most shades. Website is restocked periodically each month ...