Voici un Jindie Nails qui n'est pas tout jeune, l'un de mes premiers d'ailleurs il ne se fait plus. C'est bien dommage car il est superbe. C'est un vernis à paillettes mattes violettes, vertes, bleues et blanches. Ce mélange est très frais, très colorés et il y a même de jolis reflets bleus dans la base. Je vous le montre porté par dessus Princess Bubblegum (2 couches et après avoir raccourci un peu mes ongles ils en avaient besoin). Il est beau non ? Comme toujours la formule est géniale, l'application parfaite et le séchage est rapide.
Here is a Jindie Nails is not new at all, it is one of my very first and it is now discontinued. This is unfortunate because it is superb. It is a matte nail glitter polish with purple, green, blue and white glitter. This mix is very fresh, very colorful and there is even pretty blue reflections in the base. I layered it over Princess Bubblegum (2 coats and after I shortened my nails a bit they needed it). It is beautiful isn't it? As always, the formula is great, the application perfect and the drying is fast.
Essie Protein Base Coat / Jindie Nails Princess Bubblegum / Jindie Nails Neonderthal / Poshe Top Coat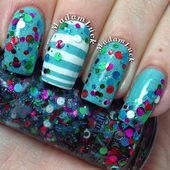 Jindie Nails | Online Nail Polish Boutique. Get Your Sparkle On!
Indie, artisan nail polish line based in Southern, USA. Cruelty & 3-free. Mid size (tall 9ML) & full (15 ML) size options are available in most shades. Website is restocked periodically each month ...