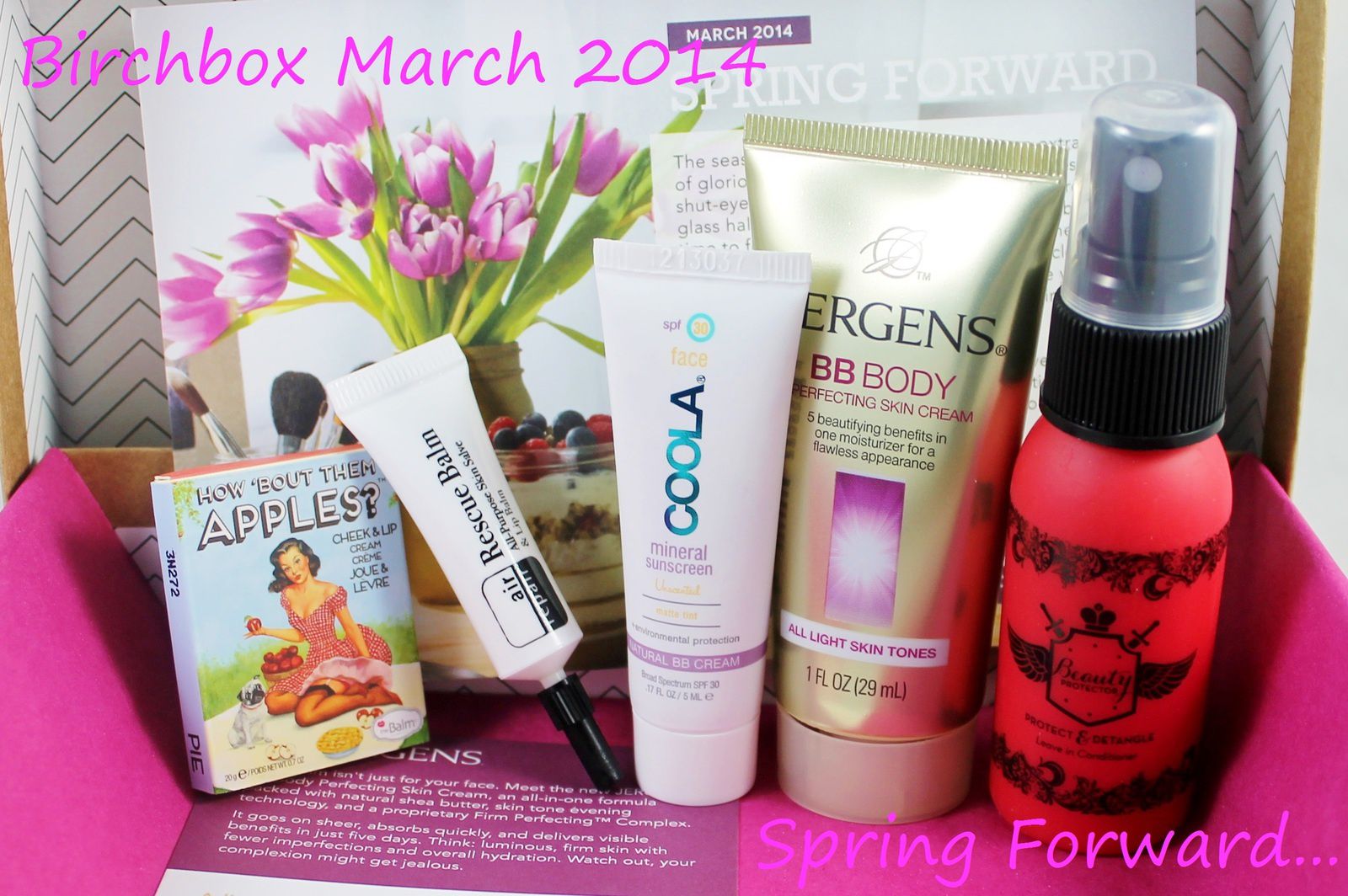 Petit interlude du Jindie Month pour vous présenter la Birchbox du mois de mars. Mais quoi me direz vous, elle avait arrêter les box beauté l'année dernière. Oui mais voilà je me suis rendue compte que ces petites box étaient vraiment bien pour découvrir de nouveaux produits, et j'ai beau être à l'affût des nouveauté en terme de vernis à ongles, mais je suis totalement à la ramasse en cosmétiques (et j'aime les cosmétiques). J'ai donc souscris à la Birchbox. Et pour mon premier mois de retour, je suis vraiment contente, voyons un peu tout ça en détails...
Small interlude of Jindie Month to present to you march the Birchbox. But what you tell me, she stopped beauty boxes last year. Yes but I realized that these were really a nice way to discover new products, and I'm on the lookout for novelty in terms of nail polish, but I'm totally not for cosmetics (and I love cosmetics). So I resuscribed to Birchbox. And for my first month back, I'm really happy, let's see more details...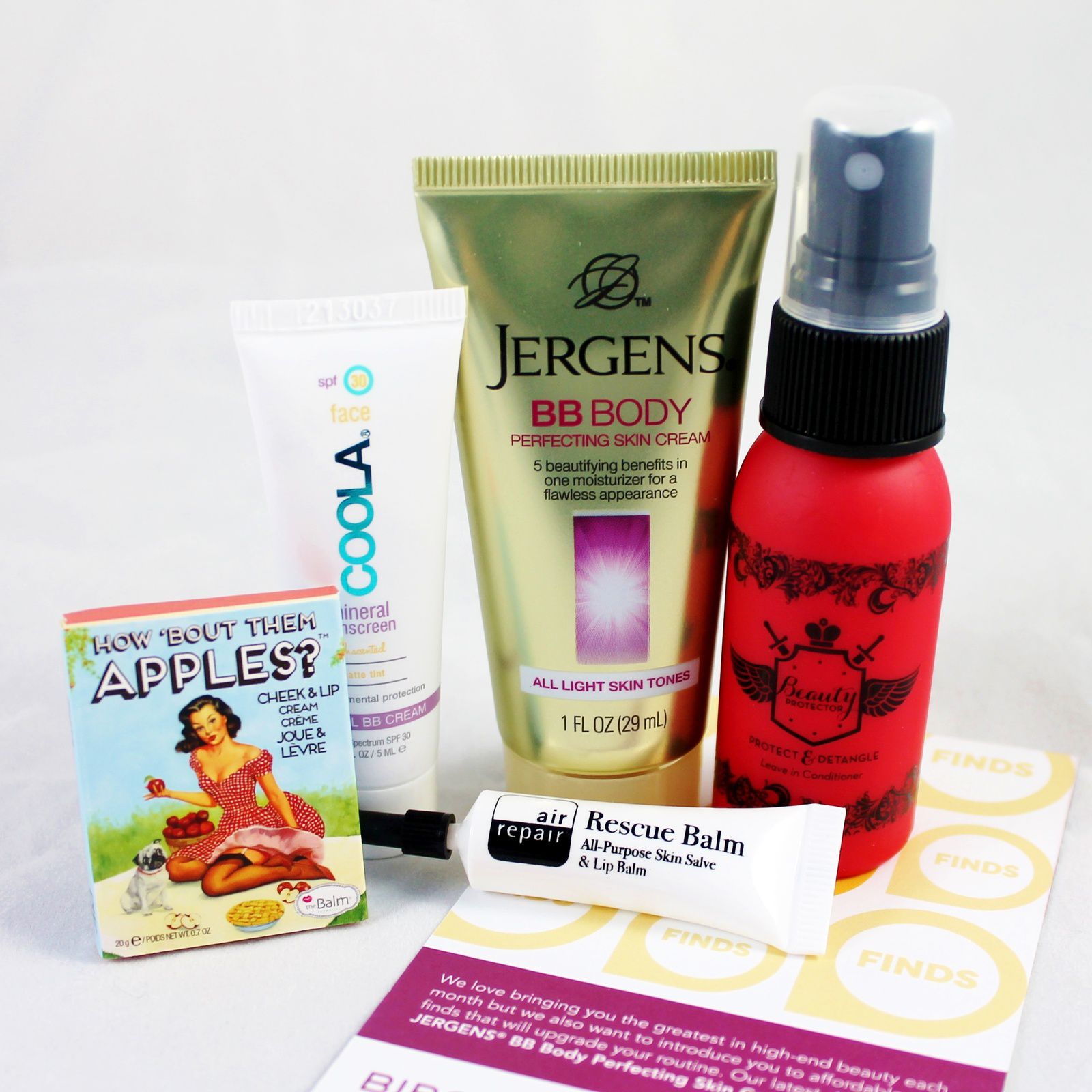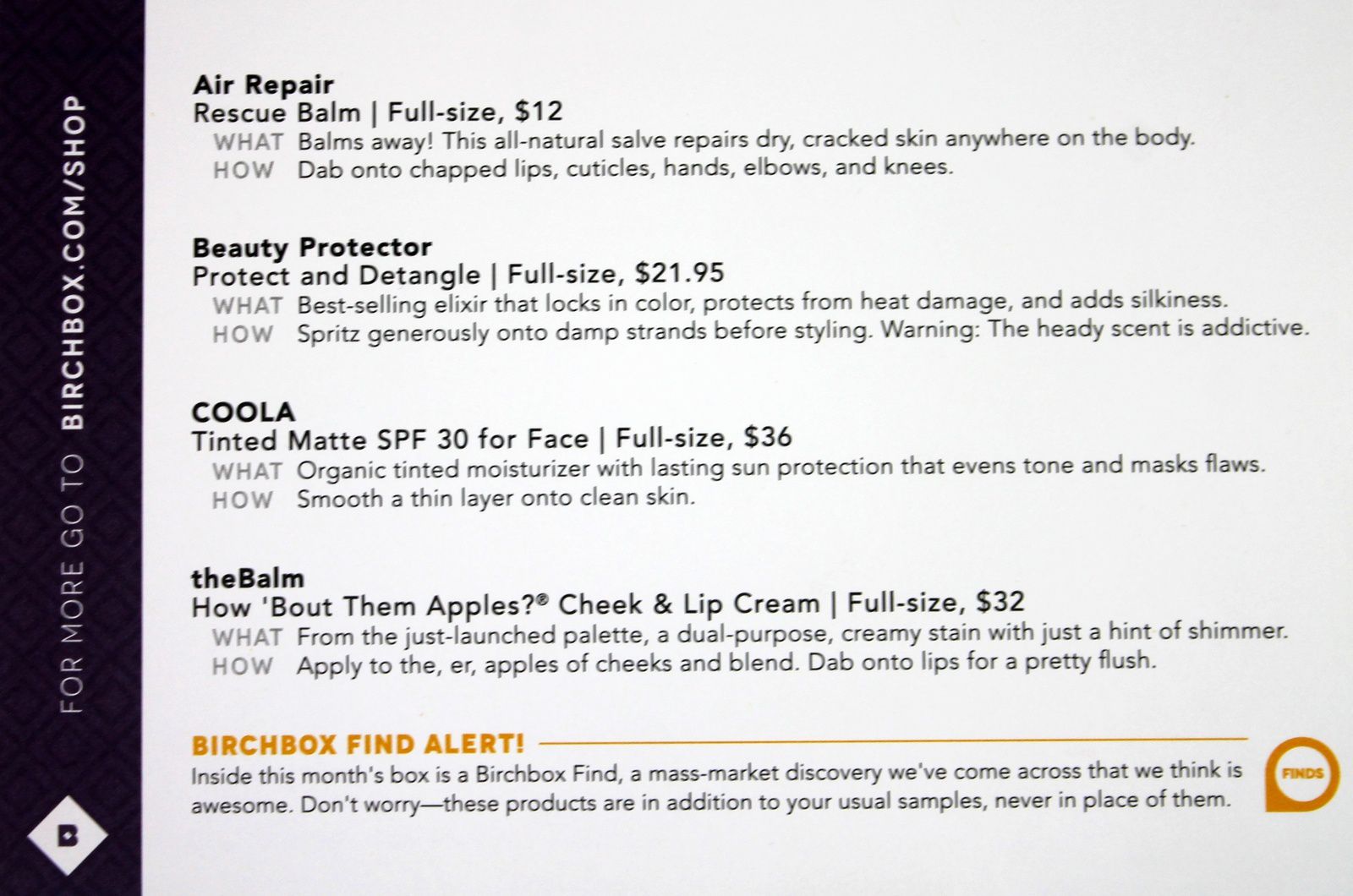 theBalm How 'Bout Them Apples?, Coola Tinted Matte SPF 30 BB cream, Air Repair Recue Balm, Jergens BB Body cream & Beauty Protector Hair leave-in conditionner
J'ai donc reçu un baume lèvres et joues theBalm, The BB cream avec protection solaire, un baume réparateur, une BB cream pour le corps et un conditionner pour cheveux. Tout d'abord j'adore les BB creams, je ne suis pas une fan de fond de teint et tout le toutim, et la BB cream est l'alternative parfaite pour moi pour unifier mon tein tout en hydratant et protegeant ma peau. La BB cream pour le corps par contre je vois moins l'interêt, et comme de toutes façons celle que j'ai reçue du parfum je ne vais pas l'essayer (je suis allergique aux fragrances synthétiques), donc non je ne jette pas, je la mets en vente dans ma blog sale pour $1 symbolique avec le coupon qui va avec. Ensuite le baume réparateur, une bénédiction, avec le froid polaire qui frappe le nord est des USA où je vis, mes lèvres souffrent beaucoup et ce genre de baume est parfait. En plus je peux aussi l'utiliser pour mes cuticules (oui mes mains souffrent aussi beaucoup du froid c'est horrible). Le conditionner pour cheveux là aussi parfait pour moi, j'en utilise des tonnes car j'ai les cheveux très longs (si vous vous dis que je ne les ai pas couper depuis plus de 2 ans... non pas vraiment par choix mais parce qu'aux USA le coiffeur ça coûte une blinde et ça ne m'encourage pas à prendre RDV, ceci dis un jour il va bien falloir parce que sinon je vais le ma jouer Raiponce LOL). En plus toujours à cause du froid mes cheveux ont tendance à être très secs aux pointes, donc pas le choix si je ne veux pas passer 3 heures à les démêler ! Et enfin mon produit chouchou de ce mois-ci... le rouge à joue et à lèvres theBalm !
So I got a cheeks and lips balm bytheBalm, a SPF30 BB cream, a repair balm, a BB cream for body and a leave_in hair conditionner. First I love BB creams , I 'm not a fan of foundation and the whole shebang, and BB cream is the perfect alternative for me to unify my skin complexion while moisturizing and protecting my skin. BB cream for the body however I see less interest, and anyway the one that I received contains fragrance so I will not try it (I 'm allergic to synthetic fragrances), so no I won't throw it away, I 'm selling it my blog sale for $1 including the $2 coupon that goes with it. Then a repair balm, a blessing, with the polar weather that hit the northeast U.S. where I live, my lips suffer a lot and that kind of balm is perfect. In addition I can also use it for my cuticles (yes my hands also suffer much from the cold it is horrible). The leave-in hair conditionner again perfect for me, I use tons because I have very long hair (if I tell you that I did not cut my hair for over 2 years... not really by choice but because the USA the haircuuter is very expensive and it does not encourage me to make an appointment, however this one day I will have to go because otherwise I'm gonna beccome Rapunzel LOL). Moreover because of the cold my hair tends to be very dry at the tips, so no choice if I do not want to spend 3 hours to untangle ! And finally my favorite product this month... theBalm cheeks and lips balm !
"How 'Bout Them Apples?" is a multi-functioning lip and cheek cream palette. Each freshly picked color is formulated to have a smooth finish that won't streak or fade, so there are no bad apples in
Alors j'ai reçu la teinte PIE (en français cela veut dire tarte, comme tarte au fraises), ma préférée dans leur palette de couleur. Ces jolis baumes teintes sont vendus en palette incluant les 6 couleurs. la couleur est donc parfaite, et la texture juste un plaisir, pas opaque, juste ce qui faut de couleur. Je ne porte pas trop de couleurs très prononcées ou flashys, non pas que je n'aime pas mais pour un maquillage de tous les jours (qui pour moi de résume à BB cream, mascara, gloss ou baume teinté, parfois un peu de crayon et un touche de blush) je préfère les couleurs discrètes exactement comme celle-ci. Je verrai à l'utilisation mais il est fort probable que j'investisse dans la palette complète tellement j'aime ce genre de produits !
So I got the PIE color, my favorite in their color palette. These pretty tinted balms are sold in palette including 6 colors. The color is perfect, and texture is just a pleasure, cheer, just enough color for me. I do not not wear bright or very pronounced colors on my lips, not that I do not like it but for an every day makeup(which for me is resumed as BB cream, mascara, lip gloss or tinted balm, sometimes a little pencil and a touch of blush) I prefer subdued colors excatly like this. I will decided after using it for a while but it is very likely that I will invest in the full palette because I really love these products!
Discover your next everything | Birchbox
Birchbox helps you find products that you'll love. Try our monthly subscription service, explore our personalized shop, or start with our editor tips and tricks.