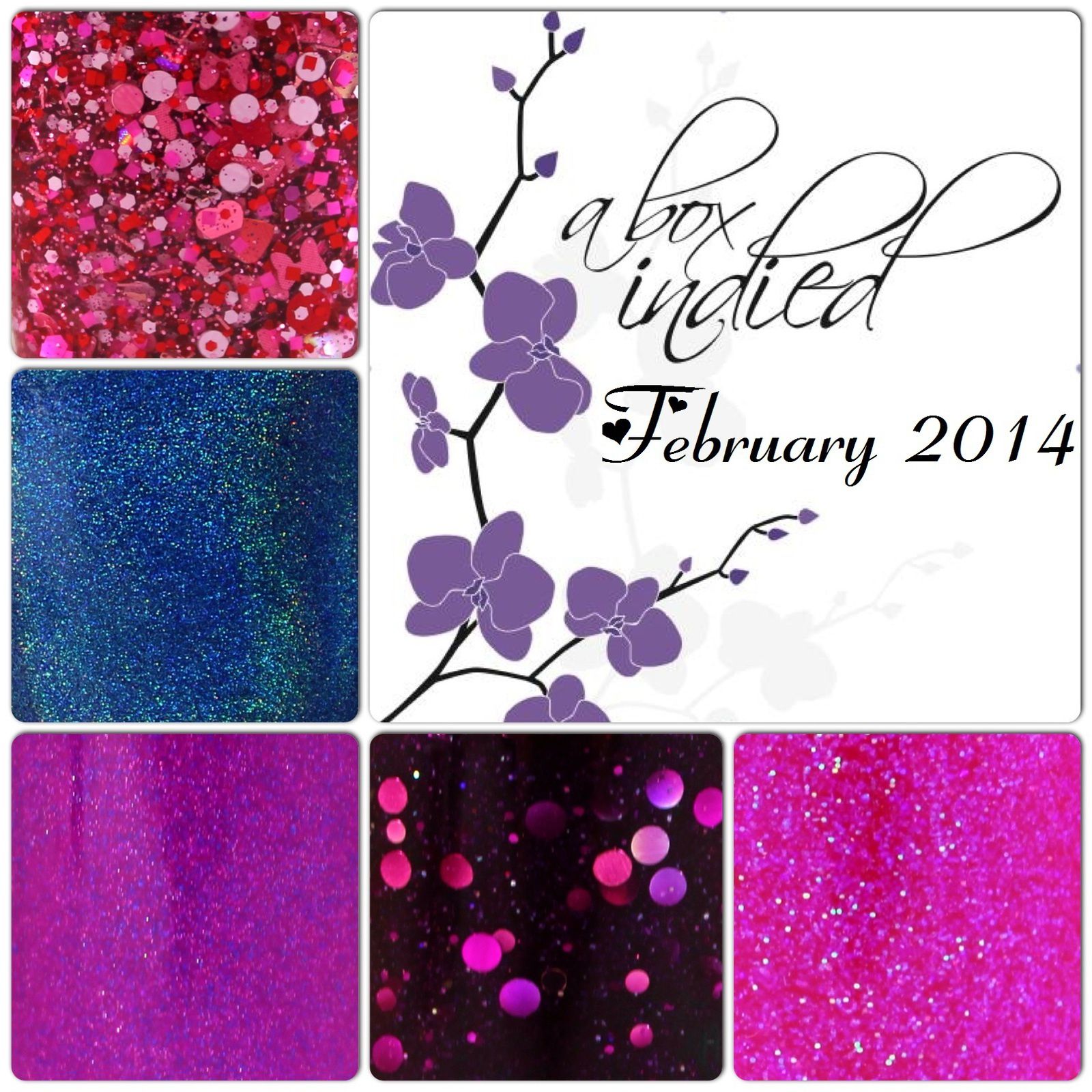 En octobre je vous parlais de la fameuse Box par Llarowe, A Box Indied. Je disais mon amour pour cette box avec tous ces jolis vernis Indies. Et depuis comme vous avez pu le voir, plus rien sur la Box Indied de Llarowe. Et bien je n'ai tous simplement pas commandé depuis octobre car les vernis proposés ne me tentais pas plus que ça. mais ça c'était avant la box de février, avec du rose, des reflets holos et un Jindie Nails super jolis. Alors voilà j'ai re-craqué pour cette Box et je vous présente mes nouveaux précieux !
In October I wrote about the famous Box by Llarowe, A Box Indied. I told you my love for this box with all those pretty Indies. And since as you can see, nothing on the Box Indied by Llarowe. Well I just did not order since October, as I did not like that much the polish proposed. but that was before the February box, with pink color and holo reflections and a pretty Jindie Nails. So here I re-fell in love with this box and I introduce you my new precious!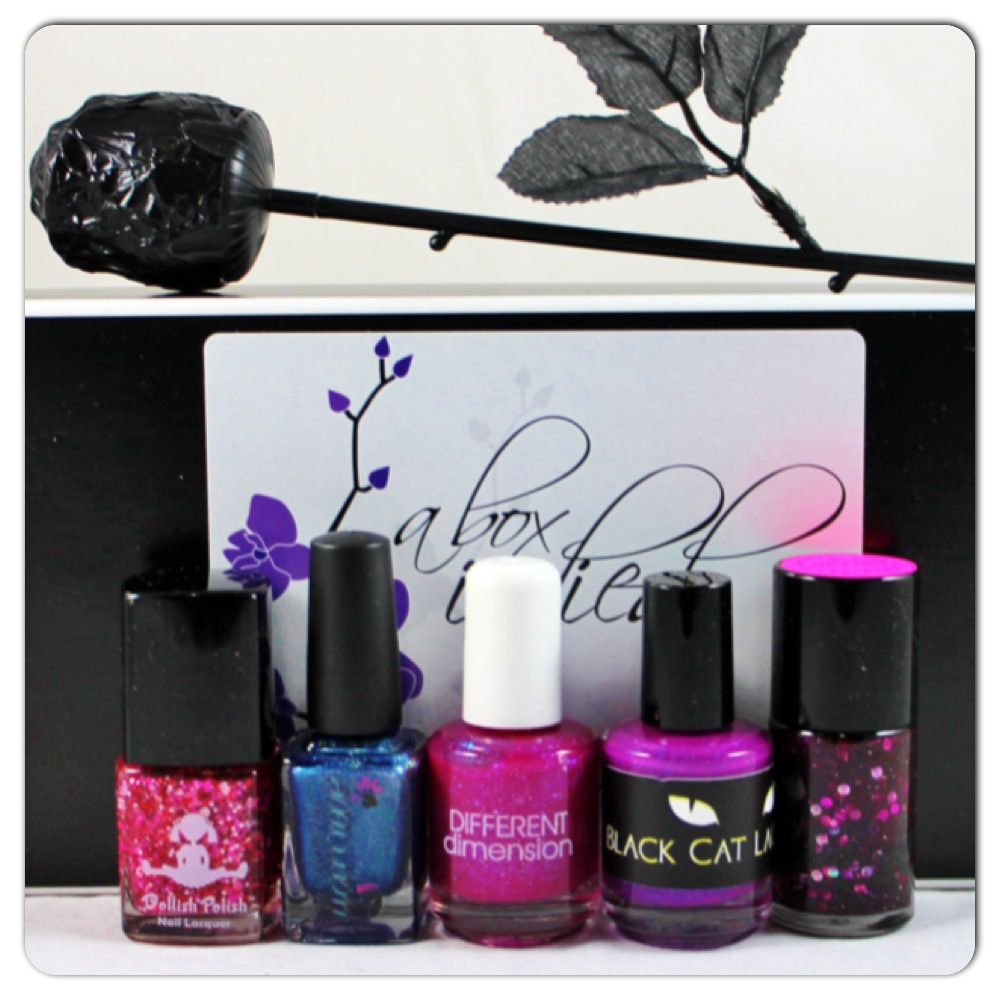 Je vais commencer par celui que j'aime le moins, mais qui reste super joli quand même, Dollish Polish Heartbreaker. C'est un vernis à paillettes avec une base transparente, je l'ai posé sur RBL Thank You. Il contient pleins de paillettes roses et rouges, il y a même des cœurs et de papillons. La formule est correcte, pas besoin de fishing, mais ce n'est juste pas mon style de vernis.
I'll start with the one I like the least, but it is still super cute though, dollish Polish Heartbreaker. This is a glitter polish with a clear base, I put it over RBL Thank You. It contains a lot of pink and red glitter, there is even hearts and butterflies. The formula is correct, no need for fishing, but it's just not my style of varnish.
Je continue avec mon préféré, Jindie Nails Dead Roses. Il a une base très sombre, un violet pourpre avec des micro flakies roses et des paillettes rondes roses et violettes. C'est une tuerie, il est magnifique, la couleur est sublime, la formule est parfaite, et ce vernis est une des raisons pour laquelle j'ai acheté cette box du mois de février !
I continue with my favorite, Jindie Nails Dead Roses. It has a very dark base, a burgundy purple with pink micro flakies and pink and purple round glitter. This is a killer, it is beautiful, the color is gorgeous, the formula is perfect, and this polish is one of the reasons why I bought this box of February!
Ensuite l'agréable surprise c'est ce vernis CBL Yo Cupid, Take a Hike! J'aime bien les vernis holographiques, mais je suis pas non plus accro. Beaucoup de filles ont acheté la box de février pour ce vernis, personnellement il ne me faisait ni chaud ni froid en photos. Mais une fois posé je dois avouer, il est incroyable. Le bleu ce n'est pas ma couleur préférée mais là wahou, des reflets à tomber, une couleur riche et profonde, vraiment c'est un petit bijoux !
Then the pleasant surprise is that polish by CBL Yo Cupid, Take a Hike! I like holographic polish, but I'm not crazy about them. Many girls bought the box of February for this polish, personally was indifferent when I saw the pictures. But when put it and I must admit, it is incredible. Blue is not my favorite color but wow, reflections are crazy, it is a deep rich color, this really is a little gem!
Ce vernis Different Dimension Cupid is Stupid je savais que j'allais l'aimer avant même de recevoir ma box. D'abord parce qu'il est rose, et ensuite parce qu'il contient ces petites paillettes irisées qui le rende tout à fait original. Donc pas de surprises une fois posé je l'aime beaucoup, même si j'ai du mettre 3 couches car il est jelly.
This Different Dimension polish Cupid is Stupid I knew I would love it even before receiving my box. First, because it is pink, and then because it contains these small iridescent glitter that make it quite original. So no surprises once I wore it, I liked it, even if I had to put 3 coats because it is jelly.
Enfin ce Black Cat Lacquer He Loves Me Not, je savais aussi que j'allais l'aimer. Le violet c'est une couleur que j'aime beaucoup, et celui-ci contient plein de paillettes très fines bleues, roses et argentées, un peu comme de la poudre magique. Ces paillettes sont tellement fines qu'on a du mal à les voir, mais elles rendent ce vernis tout simplement parfait !
Finally the Black Cat Lacquer He Loves Me Not, I also knew I would love it. Purple is a color that I love, and it contains lots of blue, pink and silver tiny glitter, a bit like magic dust. These glitter are so small that it's hard to see them, but they make this polish just perfect!
Donc cette box de février est une grande satisfaction, 4 vernis que j'aime, un seul que je n'aime pas trop, et une très belle surprise avec ce sublime holo par CBL. J'ai vraiment hâte de voir ce que la box de mars nous réserve car comme j'adore les couleur vives je sens que je vais aimer les box à venir (printemps et été) beaucoup plus que les précédentes. Pour infos certains vernis des box précédentes sont disponibles individuellement donc c'est l'occasion de vous procurer quelques jolis vernis en édition limitée si vous n'aviez pas acheté les box précédentes.
So this February box is a great satisfaction, 4 varnish that I love, only one that I do not like that much, and a very nice surprise with this sublime holo by CBL. I can not wait to see what the March box will be because as I love bright colors I feel that I will love the boxes to come (spring and summer) much more than the previous ones. For information some polish from previous boxes are available individually so this is an opportunity to get some nice polish in limited edition if you had not bought the previous boxes.