Avec la fin des vacances de Noël, c'est aussi la fin du glandouillage et le retour aux choses sérieuses ! Et pour commencer j'ai ré-ouvert ma boutique etsy et ma blog sale. Ensuite je recommence doucement à créer de nouveaux vernis, et je continue sur la lancée de 2013 avec la collection Fairy Tale avec 2 nouvelles couleurs, la première étant de ce joli vert Shrek. Je ne suis pas une grande fan du dessin animé, mais la couleur de Shrek j'adore. Je sais qu'OPI avait sorti une collection Shrek il y a maintenant un bout de temps, mais j'ai décidé de mixer ma propre vernis de ce vert atypique, et je trouve le résultat parfait, une vert qui tire sur le jaune avec une touche de reflets verts. Comme tous les vernis de la collection Fairy Tale je n'en ai pas fait beaucoup, mais il est dispo sur ma boutique etsy (USA uniquement).
With the end of the Christmas holidays, it is also the end of the holiday laziness and it is time to get back to business! And to start I re-opened my etsy shop and my blog sale. Then I slowly restarted to create new varnish, and I continue the what I started in 2013 with the Fairy Tale collection, with two new colors, the first being this pretty Shrek green. I'm not a big fan of the cartoon, but the Shrek color I love it. I know OPI released a Shrek collection a while ago, but I decided to mix my own version of this unusual green, and I found the perfect result, a green that pulls on yellow with a touch of green hues. Like all polish of the Fairy Tale collection I did not make a lot, but it is available on my etsy shop (USA only).
Revlon Quick dry base coat / Pink-Dipsy-Bulle Franken Polish Shrek-licious / Poshe Top Coat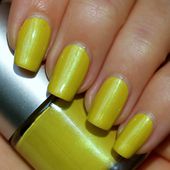 Shrek-licious Franken Nail Polish - Yellow/green color with green hues - Limited Edition
Shrek-licious is a Yellow/green color with green hues. I only have 1 polish available for this color, it is a limites edition, I won't make more. On my swatches 2 coats + top coat. 10ml bottle ...
http://www.etsy.com/listing/176159885/shrek-licious-franken-nail-polish