Le mois de décembre est un mois très chargé en terme de nouveaux vernis, d'abord parce que c'est le mois ou tu reçois tes achats de Black Friday (ou ta commande Dance Legend passée il y a 3 mois, ce n'est pas très rapide la livraison depuis la Russie), mais aussi parce qu'avec Noël tu as reçu des cadeaux (ou plutôt tu t'es fais des cadeaux à toi mêmes en prétextant que c'est Noël pour te déculpabiliser, ça marche aussi). Bref j'ai pleins de nouveaux bébés à vous montrer, et pour 2014 je vais essayer de me calmer (LOL), je croule sous les vernis je n'ai plus de place ! Et donc pour commencer voici la commande Dance Legend passée en septembre, reçue ce mois-ci. L'attente a été très longue mais je possède enfin la collection multichrome (+ quelques Thermos).
December was a busy month in terms of nail polish shopping, first because it is the month when you get your Black Friday orders (or your Dance Legend order placed three months ago, it was not not very fast delivery from Russia), but also because with Christmas gifts you received (or rather you made to yourself on the pretext that it is Christmas just to feel a little less guilty, it also works). Well I have many new babies to show you, and for 2014 I'll try to slow mi nail polish shopping (LOL), I already have so many I don't have anymore space! So here to start the Dance Legend order placed in September, received this month. The wait was long but finally I have the multichrome collection (+ some Thermos).
J'ai ensuite profité des soldes -50% chez RBL, j'ai pris 4 vernis, et j'ai aussi fais une commande chez Jalene de Pretty Pots Polish; C'est une marque Indie Australienne que j'ai découverte sous instagram et j'adore ses vernis !
I then took advantage of the -50% sale at RBL, I took 4 polish, and I also placed an order at Pretty Pots Polish, it is an australian Indie brand I discovered on instagram and I love her nail polish!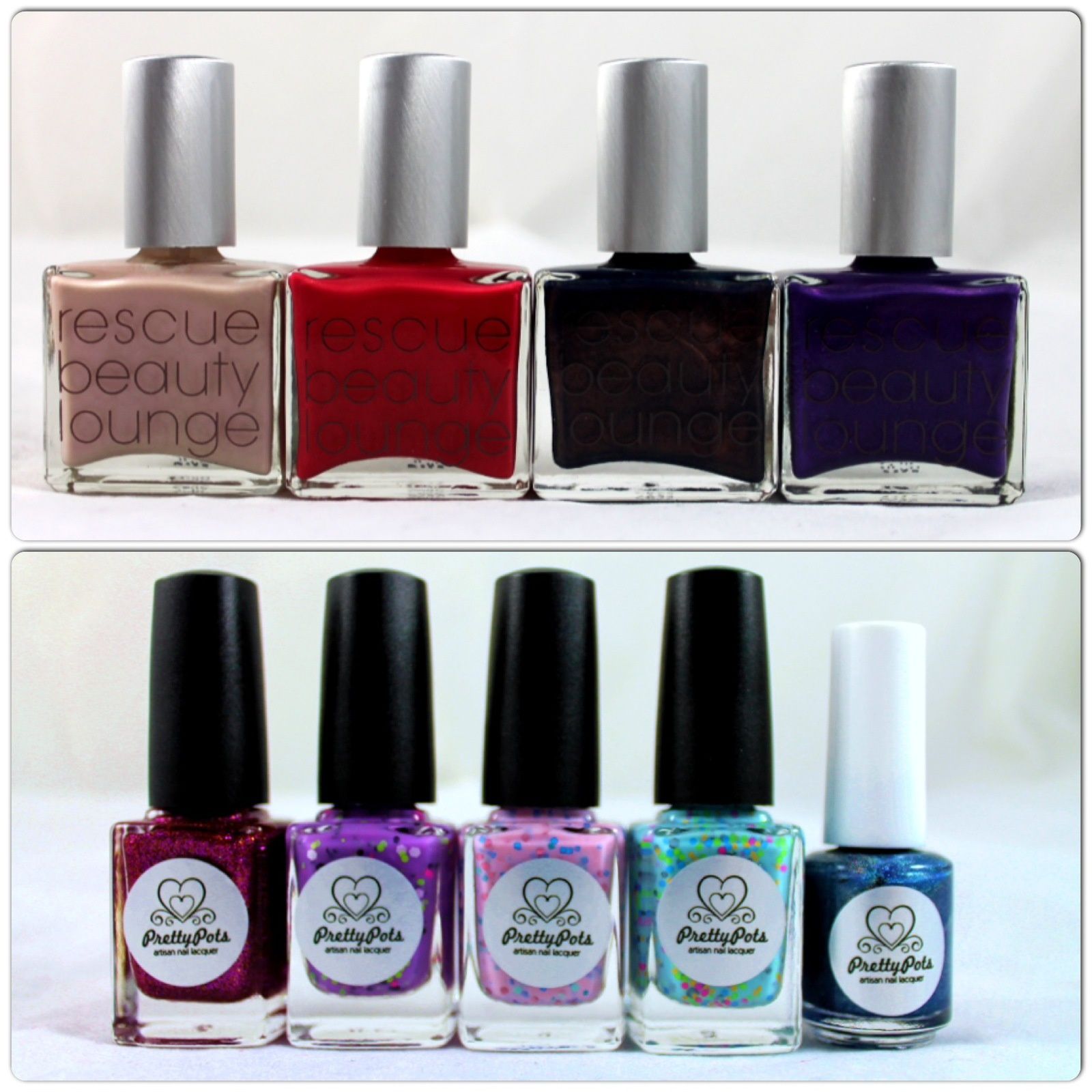 RBL Thank You / Smile / Più Mosso / Pause, Pretty Pots Sparkle Tempest / Riot on the Sidewalk / Little Baby Bumpkins / Monster Grimace / You'll Never Take my Sky
J'attendais aussi avec impatience le retour en stock de Coronation avec sa jolie bagues en forme de couronne, il est un peu cher mais la bague et le vernis sont merveilleux. J'ai profité des soldes de Black friday pour commander quelques Sindie POP. J'ai decouvert cette marque sur Instagram également, je voulais voir en vrai ces vernis si magnifiques. J'ai aussi passé une commande chez Julep pour Black Friday. Je ne suis pas une grande fan de cette marque mais il y avait 2 vernis que je voulais (Hayden et Faye), j'ai reçu Max en cadeau. Ensuite 3 nouveaux multichromes chez ILove NP, je ne pouvais pas louper ça !
I also looked forward to the return of Coronation in stock with its beautiful rings shaped like a crown, it was a bit expensive but the ring and varnish are wonderful. I took advantage of Black friday to order some Sindie POP. I discovered this brand on Instagram also, I wanted to see for myself if these beautiful varnish. I also placed an order on Julep website for Black Friday. I'm not a big fan of this brand, but there were 2 polish I wanted (Hayden and Faye), I got Max as a gift. Then three new multichrome polish by ILoveNP, I could not miss it!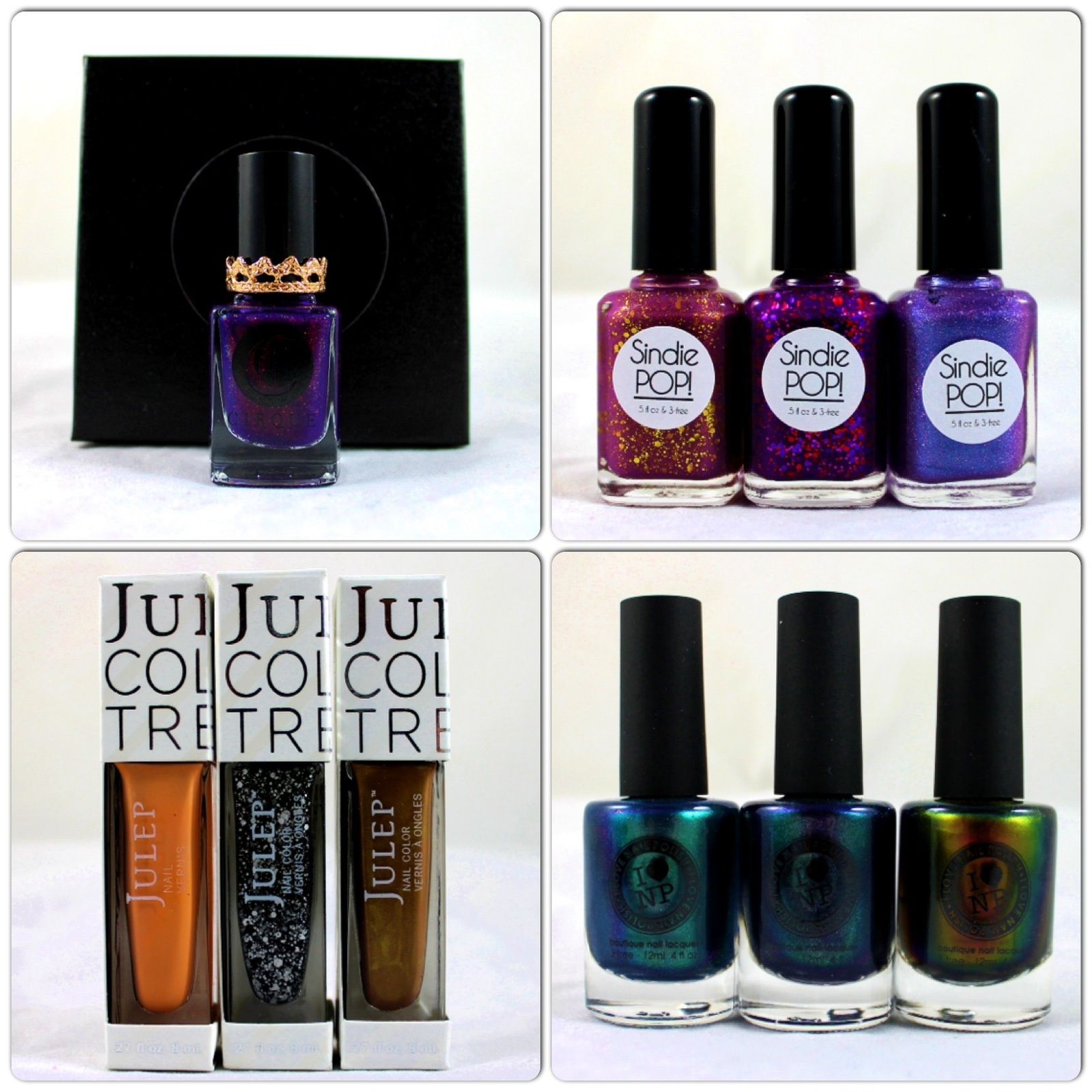 Cirque Coronation, Sindie POP! Golden Raspberry / Electric Purple / I'm Just Drawn Bad, Julep Hayden / Max / Faye, ILoveNP Washing Ashore / Sweet Serenade / Nostalgia
Toujours profitant de Black Friday j'ai commandé mes premiers Xoxo Nail Candy et Fancy Gloss. Je découvre beaucoup de nouvelles marques Indies en ce moment et j'ai envie de toutes les essayer c'est terrible !
Always enjoying Black Friday I ordered my first Xoxo Nail Cancy and Fancy Gloss. I discovered a lot of new Indie brands recently and I want to try them all this is terrible!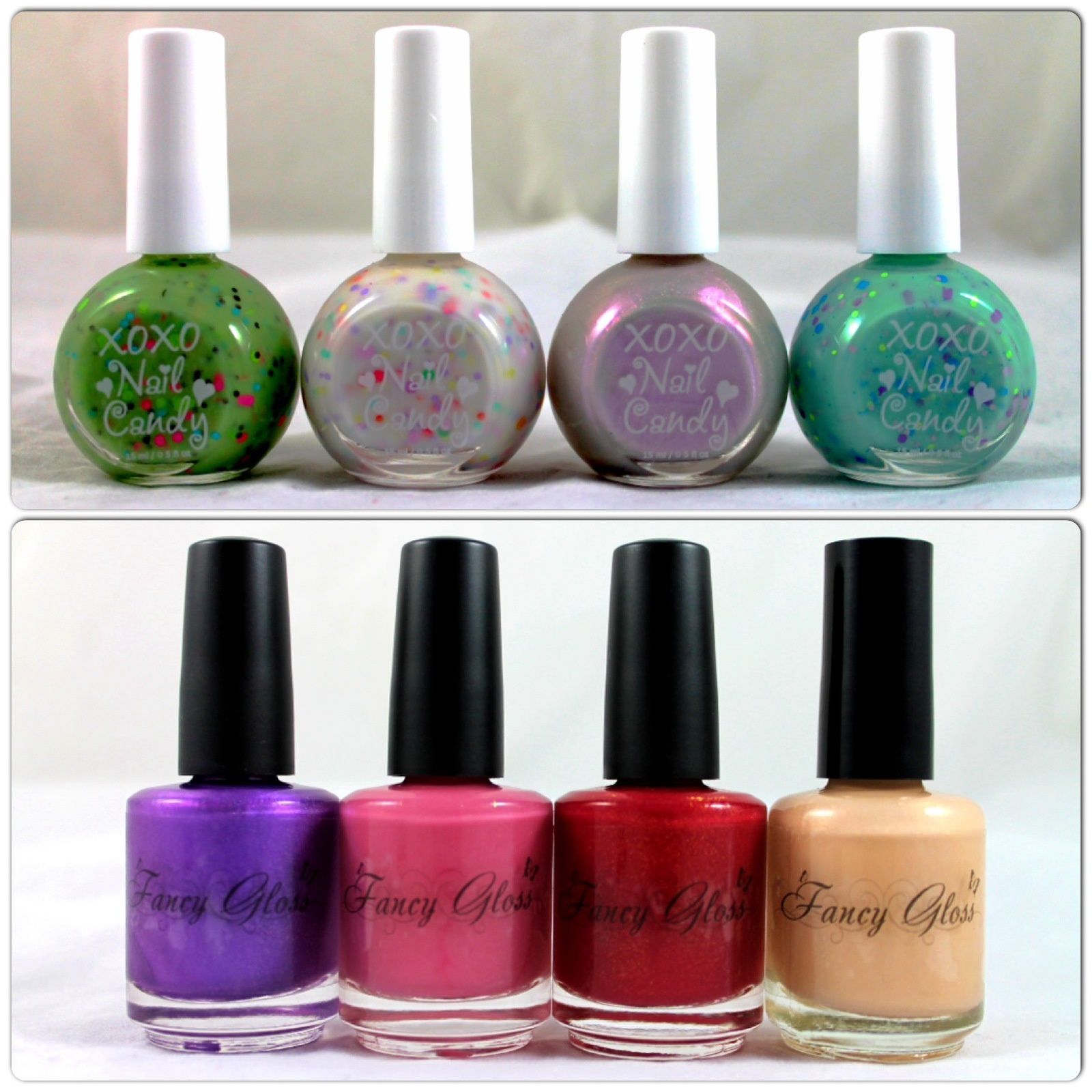 XoXo Nail Candy Sour Apple Candy / Milk and Cookies / Sitting on a Fluffy Cloud / Comfy PJ's, Fancy Gloss Purple Reign / Barbie Girl / Unconditional Love / Under my Skin
Ils sont énervant chez Moyou, ils sortent tout le temps de nouvelles plaques plus belles les uns que les autres, et les nouvelles explorer il me les fallait absolument; J'en ai profité pour prendre quelques plaques d'autres collections.
They are annoying at Moyou they released all the time new more beautiful than the other plates, and the new Explorer one it was absolutely necessary I had them, I took the opportunity to take some plates from other collections.
Je lorgnais depuis quelques temps sur les Darling Diva Polish de la collection Queen, grâce aux soldes de Black Friday je les ai presque tous (il me manque We Will Rock You), et j'ai également pris quelques vernis de la collection Diamond.
I was eyeing for some time on the Darling Diva Polish Queen collection, thanks to Black Friday sales I have almost all of them (I miss We Will Rock You), and I also took some polish from the Diamond collection.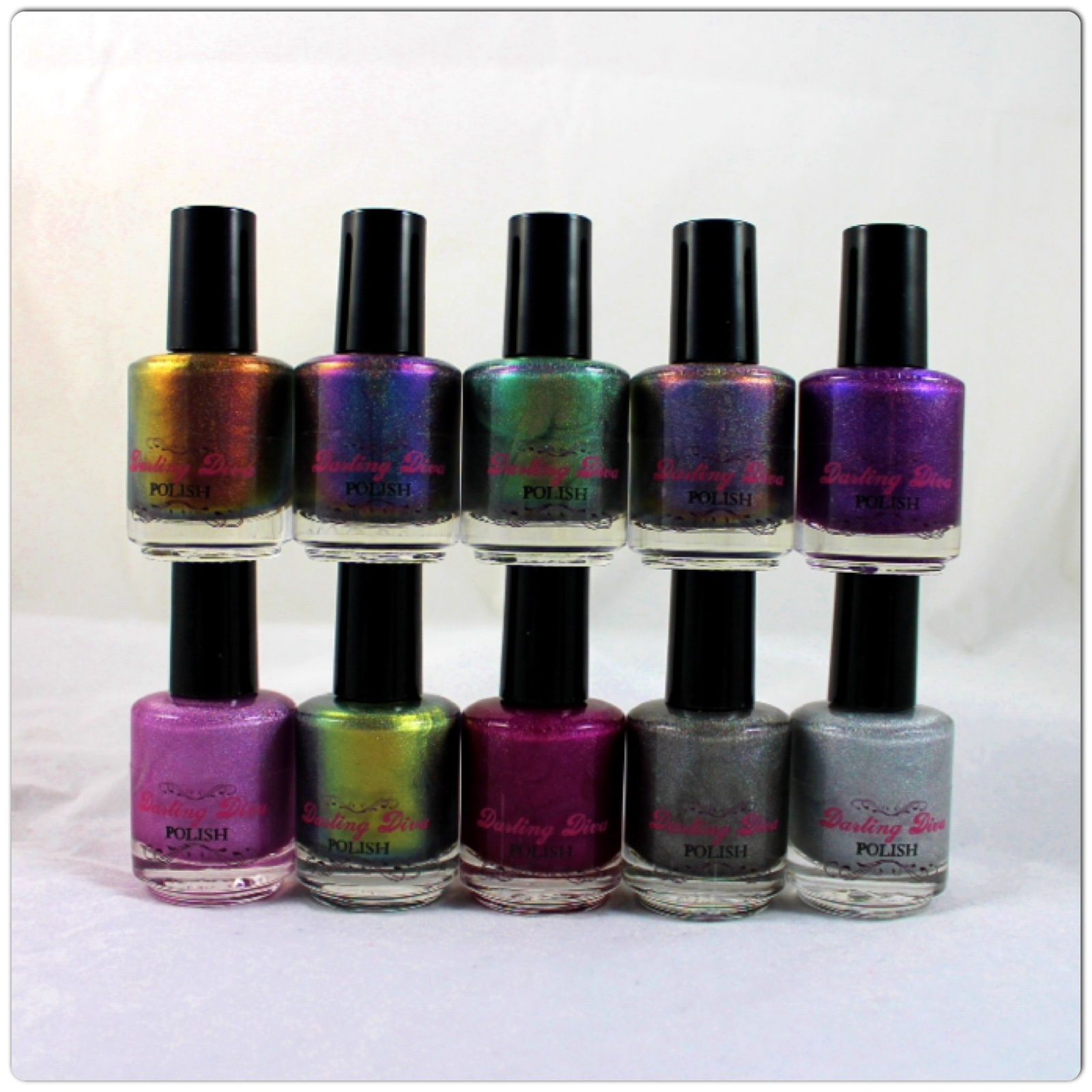 Darling Diva Polish Flash / Purple Rain / Crazy Little Thing Called Love / Killer Queen / Bohemian Rhapsody / Diamond / Rose Diamond /We are Champions / Pink Diamond / Black Diamond
Avec ma commande Darling Diva Polish j'ai reçu un vernis en cadeau, j'ai également reçu un vernis jessica en cadeau avec une autre commande dont vous parlerai dans un autre article (ce ne sont pas des vernis). Je voulais Crowstoes Indian Summer parce que c'est un multichrome dont je ne pense pas avoir de dupe, je l'ai commandé chez Llarowe. Il me manquait Treasure Chest de la collection de texture de Sinful Colors, impossible de le trouver où j'habite, donc une adorable personne de l'un de mes groupes facebook me l'a envoyé (merci Kelly). J'ai également commandé 2 FUN lacquer et quelques Starrily, deux nouvelles marques Indies que je ne possédais pas encore.
With my Darling Diva Polish order I received a polish as a gift, I also received as a gift a jessica polish with another order I will takl about in another article another article (it was not nail polish). I wanted Crowstoes Indian Summer because it is a multichrome which I do not think I have a dupe, I ordered it from Llarowe. I missed Treasure Chest from the Sinful Colors texture collection, impossible to find where I live, so a lovely person from one of my facebook groups sent it to me (thank you Kelly). I also ordered 2 FUN lacquer and some Starrily, two new Indie brands I did not yet possessed.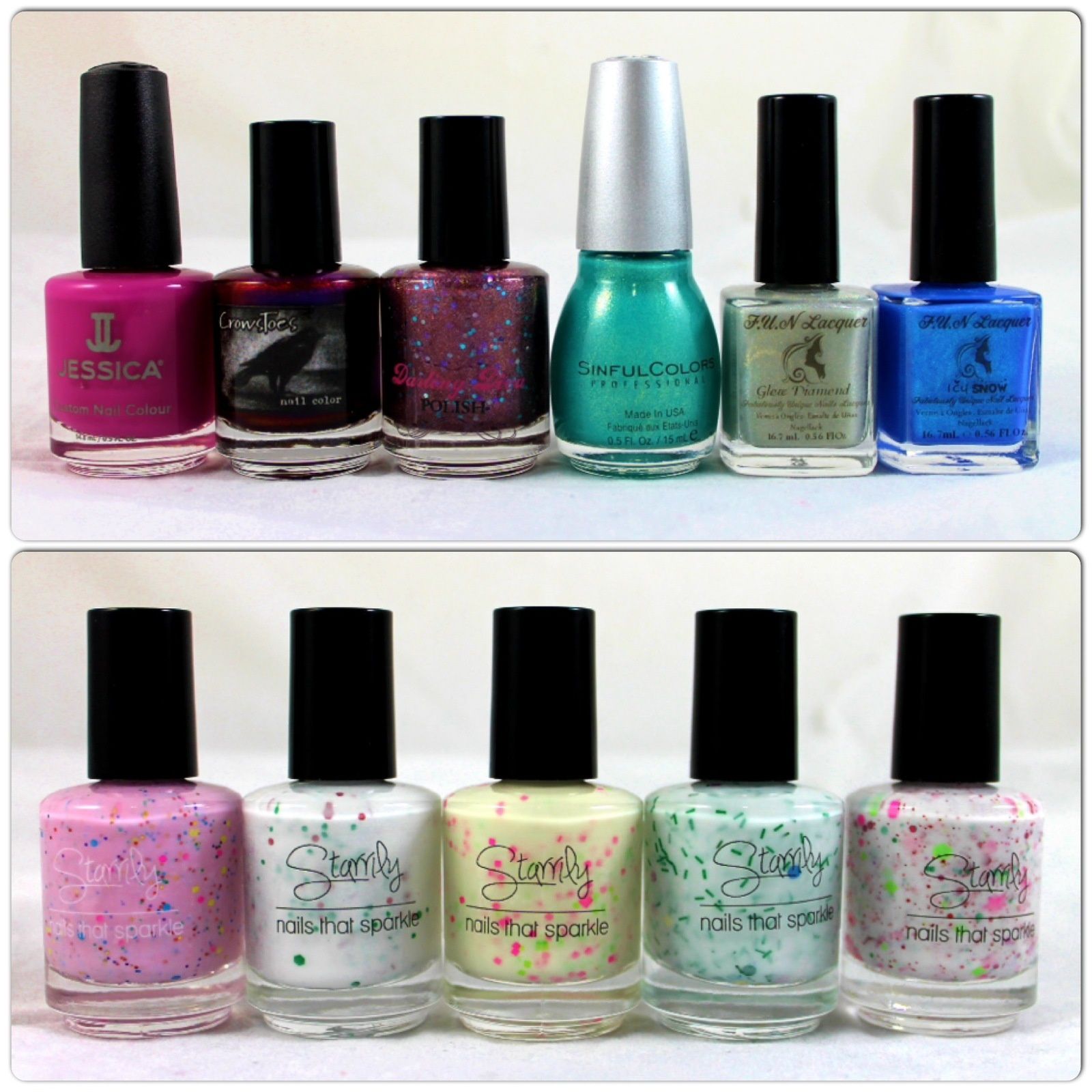 Jessica Color Me Calli Lily, Crowstoes Indian Summer, Darling Diva Polish Intimate Secret, Sinful Colors Treasure Chest,, FUN Lacquer Glow Diamond / Icy Snow, Starrily Strawberry Donut / Holly Day / Poprocks / O Christmas Tree / Barbie's First Christmas