I recently got a little Influenster package containing an anti-aging serum from Meaningful Beauty (skin care bran by Cindy Crawford). I 'm a big user of beauty products and specifically anti-aging products. It is therefore with pleasure that I 'll try this one. So Meaningful Beauty is a range of products containing ingredients to moisturize, protect, hydrate and rejuvenate the skin. Apparently the "secret" ingredient in these products is a super powerful antioxidant enzyme extracted from melon (Muskmelon, Cucumis Melo) , the superoxide dismutase. As a scientist I know this enzyme as it is the subject of many publications about its beneficial effects on the brain, obesity (yes eat melon is good for health)... So finding it in a anti-aging product gives me confidence in this product. I started using it every night, the texture is nice, a gel-cream, not greasy, penetrates quickly and leaves a very soft skin. I 'll tell you more when I 'm done but I'm optimistic as moreover I read many reviews found on the net and it really seems to be a good product (but pricey).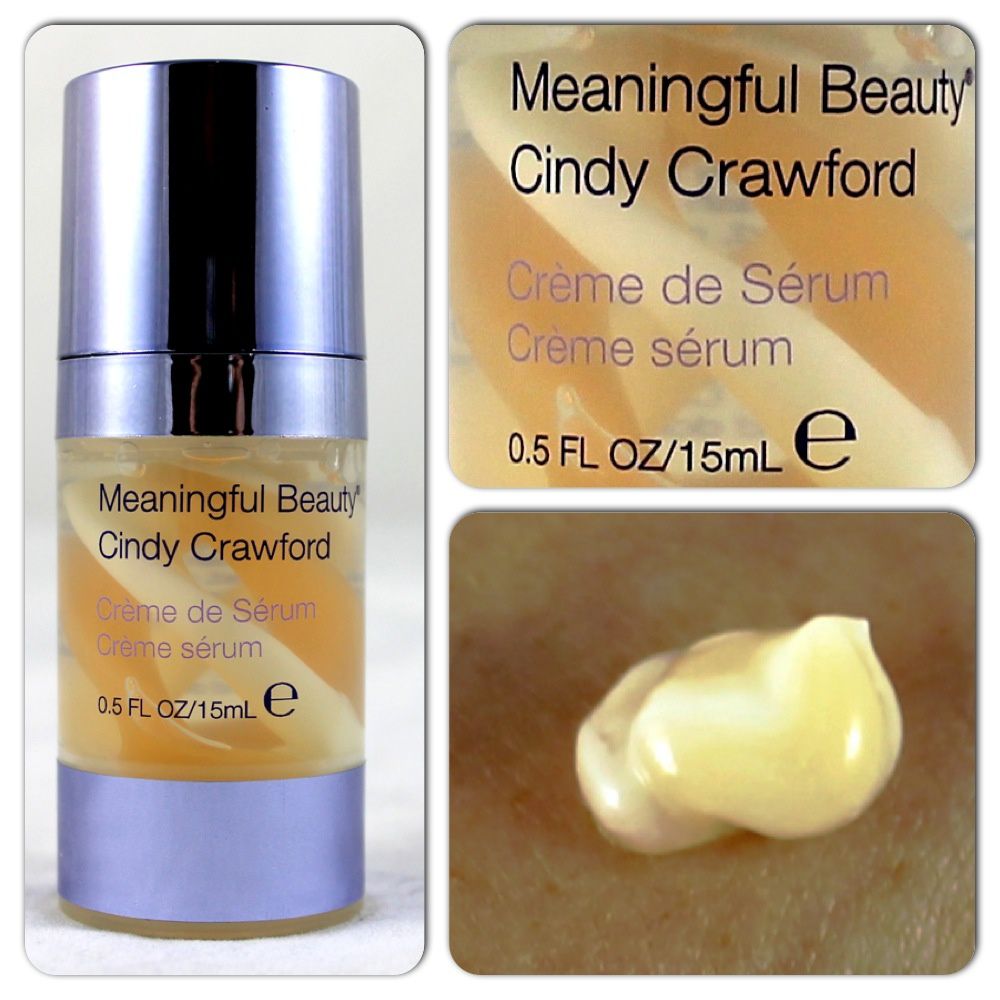 J'ai reçu il y a peu un colis d'Influenster contenant un sérum anti-âge de Meaningful Beauty (la marque de soin pour la peau par Cindy Crawford). je suis une grande utilisatrice de produits de beauté et spécifiquement des produits anti-âge. C'est donc avec plaisir que je vais tester celui-ci. Alors Meaningful Beauty c'est toute une gamme de produits contenant des ingrédients destinés à hydrater, protéger, hydrater et rajeunir la peau. Apparemment l'ingrédient "secret" de ces produits c'est une enzyme anti-oxydante super puissante extraite du melon (Muskmelon, Cucumis Melo), la super-oxyde dismutase. Moi, scientifique ça me parle beaucoup car cette enzyme est bien connue car elle fait l'objet de nombreuses publications à propos de ces effets bénéfiques sur le cerveau, l'obésité (oui mangez du melon c'est bon pour la santé)... Donc la trouver dans un produit anti-âge ça me donne confiance dans ce produit. J'ai commencé à l'utiliser tous les soirs, la texture est agréable, une sorte de gel-crème, pas gras, qui pénètre assez vite et laisse la peau douce. Je vous en dirais plus quand je l'aurais fini mais je suis optimiste d'autant plus que d'apres pas mal de revues trouvées sur le net ça a vraiment l'air d'être un bon produit (mais un peu cher).
Superoxide Dismutase | Wrinkle Cream with SOD | Meaningful Beauty®
Nutrition for Your Skin Your skin needs to be fed on a daily basis-just as you feed your body. The skin care you choose should help keep it protected from damaging free radicals and harsh ...
http://www.meaningfulbeauty.com/How-it-works/how-it-works,default,pg.html