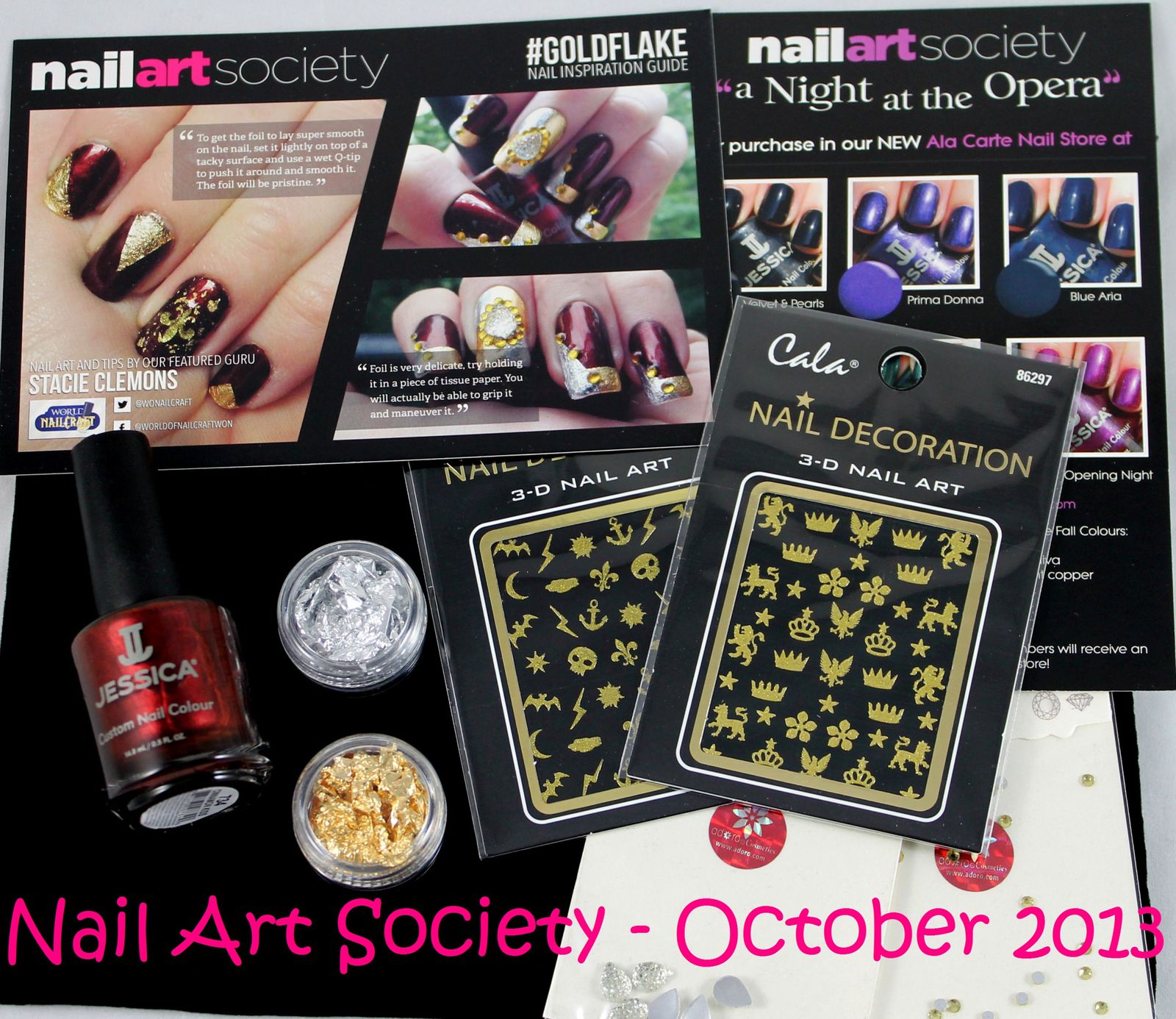 Voici le kit Nail Art Society du mois d'octobre. C'est mon dernier kit, j'ai résilié mon abonnement, j'ai beaucoup trop de matériel de Nail Art et je ne fais pas assez de Nail Art pour tout utiliser, donc j'ai décidé d'arrêter. Ceci dit j'aime beaucoup de service et ce mois-ci le kit est super sympa, il contient un vernis Jessica (Cinnamon Kiss), des strass dorés et des grosses gouttes, des feuilles or et argent, et des stickers. Bref pleins de jolies choses avec lesquelles j'ai décidé de faire une petite manucure d'Halloween assez classe.
Here is Nail Art Society kit for October. This is my last kit, I canceled my subscription, I have too much Nail Art stuff and I do not do enough nail art to use everything, so I decided to stop. That being said, I really like this service and this month the kit is very nice, it contains a Jessica polish (Cinnamon Kiss), gold and silver leaves, golden and drop rhinestones, and stickers. well full of beautiful things that I've decided to use for a little Halloween manicure really classy.
Tout d'abord le vernis Jessica, il est sublime, c'est un brun foncé aux reflets cuivrés et rouges, très intenses. Il est opaque en deux couches et il sèche vite, et surtout il a un fini super glossy. Par dessus j'ai utilisé les stickers dorés sur deux doigts, et j'ai utilisé les feuilles d'or pour dessiner un triangle au bout duquel j'ai collé un strass. Pour faire ces triangles j'ai utiliser de la colle pour foils, c'est quasiment la même techniques sauf que des feuilles d'or sont très fragiles donc à manipuler avec précaution. J'ai également remarqué que Cinnamon Kiss est quasiment un dupe de OPI German-icure, voyez par vous même, Cinnamon Kiss est un tout petit peu plus lumineux mais franchement pas besoin d'avoir les deux !
First the Jessica varnish, it is sublime, it is a dark brown with red and copper highlights, really intense. It is opaque in two coats and dries quickly, and most importantly it has a super glossy finish. Above I used the gold stickers on two fingers, and I used gold leaf to draw a triangle after which I glued a rhinestone. To make these triangles I use foil glue, it is almost the same technique excepet that leaves ar more fragile than foils so handle with care. I also noticed that Cinnamon Kiss is almost a dupe of OPI German-icure, see for yourself, Cinnamon Kiss is a little brighter but really no need to have both!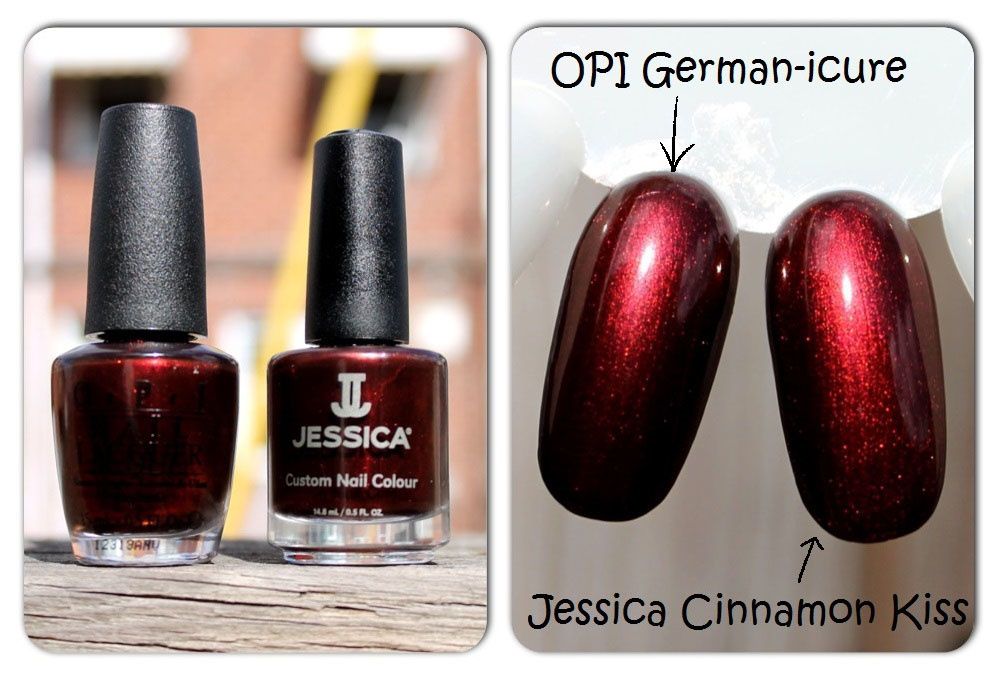 Join the Nail Art Society and for only $9.95 a month, which is cheaper than the cost of most PLAIN manicures, we will curate and deliver to your door, the latest tools, polishes, and nail ...