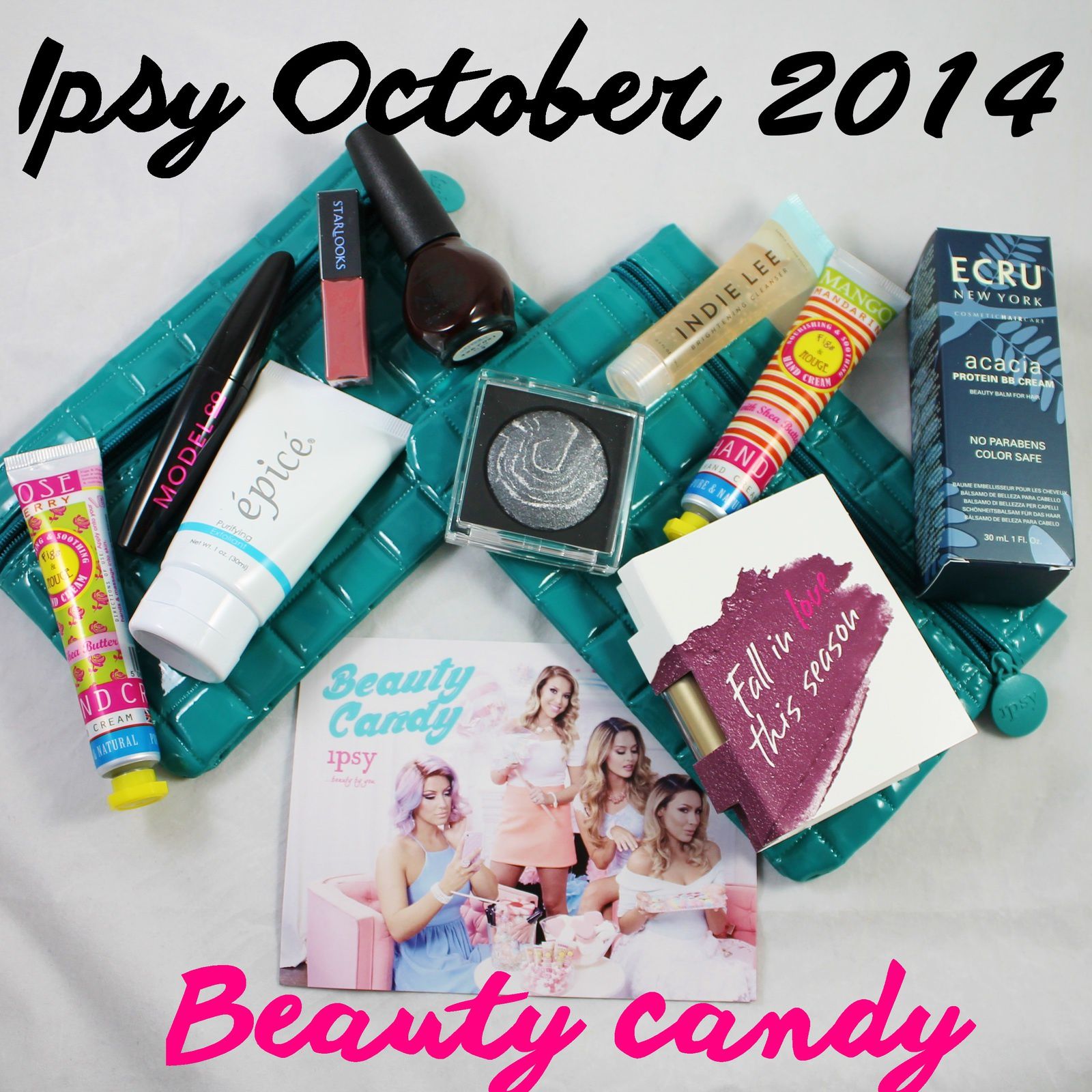 Et oui maintenant que j'ai 2 comptes Ipsy, j'ai 2 Glam Bags tous les mois. Avec des réponses complètement différentes à chacun de mes quizz, ce mois-ci encore j'ai reçu 2 bags différents... D'ailleurs j'adore le petit sac turquoise il est super mignon.
So now that I have two Ipsy accounts and thus I have 2 Glam Bags every month. With completely different answers to each of my quiz, again this month I received 2 different bags ... and by the way, I love the little turquoise bag, it is super cute.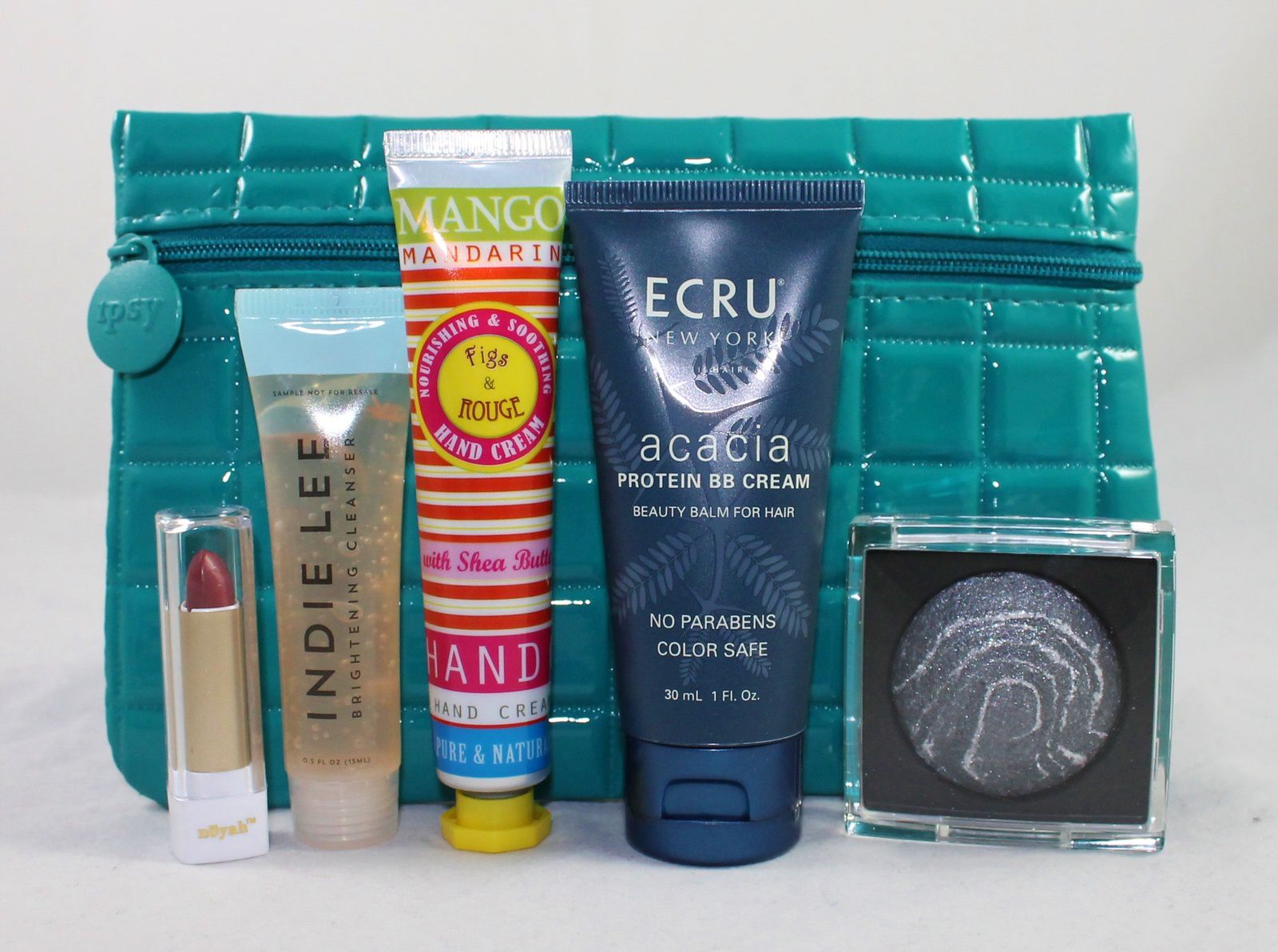 Noyah Lipstick in Deeply in Mauve, Indie Lee Brightening Cleanser, Figs & Rouge Hand Cream Mango Mandarin, ECRU New York Acacia Protein BB Cream Beauty Balm for Hair & Jesse's Girl Mineralized Baked Shadow Powder in Graphite Frost.
Mon premier Ipsy bag (celui de mon compte principal) est relativement sympa. J'aime beaucoup la couleur du rouge à lèvre (un mauve prune foncé), le nettoyant pour le visage est génial (j'ai déjà ce produit en taille normale, je l'ai reçu dans une de mes Popsugar), et la crème pour les mains sent merveilleusement bon (et j'ai vérifié elle contient du parfum mais c'est du 100% naturel). Je pensais ne pas aimer l'ombre à paupière, mais cette couleur grise métallisée est parfaite pour faire un smoky léger. Le seul produit que je ne vais pas garder c'est le soin pour cheveux car il contient du parfum.
My first Ipsy bag (the one from my main account) is quite nice. I love the color of the lipstick (dark plum purple), the facial cleanser is great (I have this in full size, I received it in one of my PopSugar) and tha hand cream smells wonderful (and I checked it contains fragrance but it's 100% natural). I thought I would not like the eyeshadow, but this metallic gray color is perfect for a light smoky eye. The only product I will not keep it's hair care as it contains fragrance.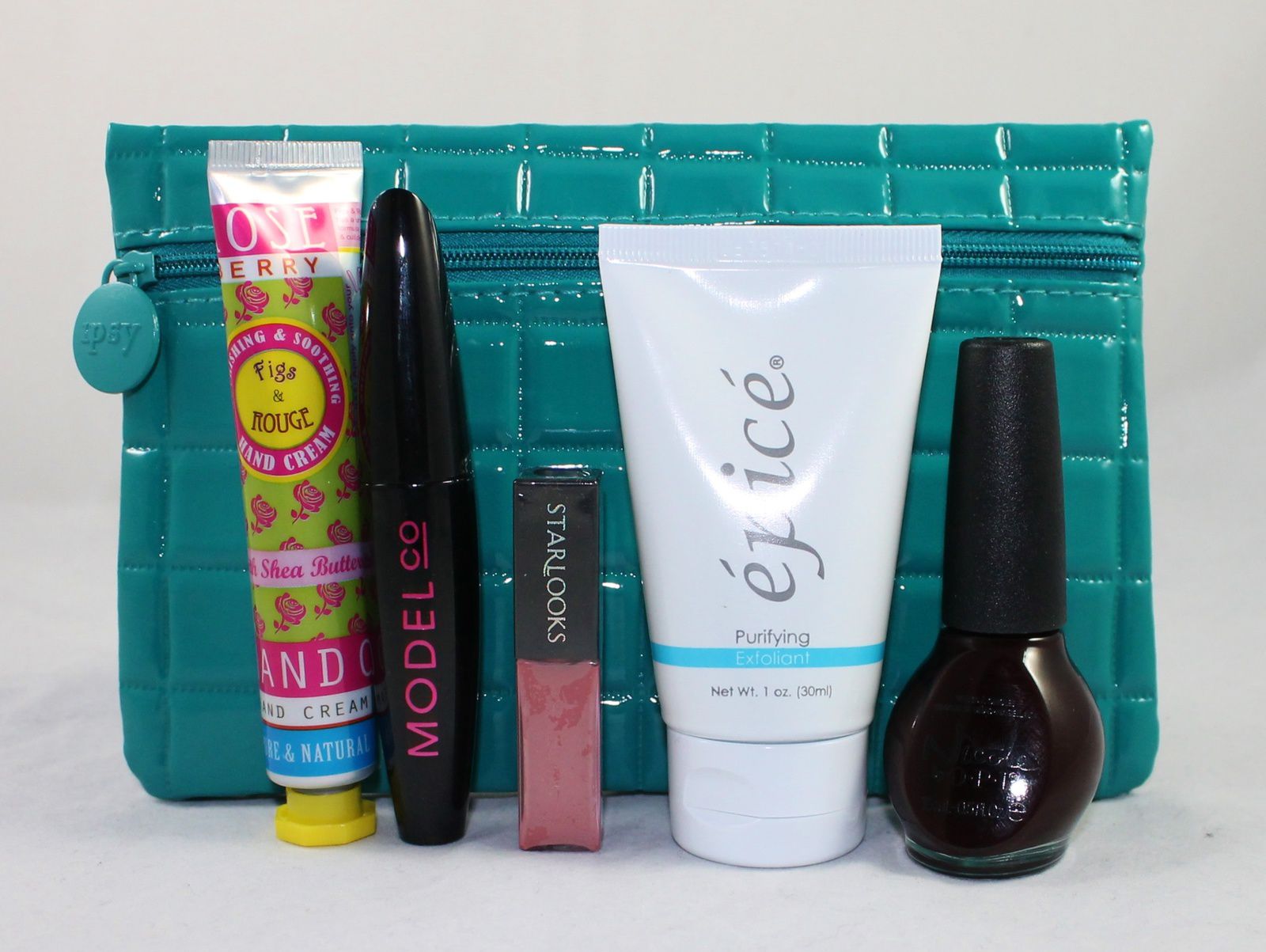 Figs & Rouge Hand Cream Rose Berry, ModelCo VOLUMEYES Extreme Black Mascara, Starlooks Lip Gloss in Guilty Pleasure, Épicé International Purifying Exfoliant & Nicole by OPI Nail Lacquer in Feeling Very Cherry.
Mon deuxième ipsy bag est différent du premier, à l'exception de la crème pour les mains (c'est la même mais un parfum différent). J'ai également reçu un mascara ModelCo que j'ai essayé et que je n'aime pas trop, un gloss Starlooks que j'aime beaucoup et un vernis Nicole by OPI d'une très jolie couleur (un prune marron foncé parfait pour l'automne). Le seul produit que je ne vais pas garder c'est cet exfoliant Epicé car il contient du parfum. En résumé je suis super contente de mes deux Ipsy Bags car j'ai reçu des produits différents et je vais quasiment tous les utiliser !
My second Ipsy bag is different from the first one, except for the hand cream (it's the same but a different flavor). I also received a ModelCo mascara that I've tried and I do not like that much, a Starlooks gloss that I love and a Nicole by OPI polish in a very pretty color (a dark brown plum perfect for fall). The only product I will not keep it this Epice exfoliant as it contains fragrance. In summary I am really happy with my two Ipsy Bags because I got different products and I almost will use them all!
Join Aurelie & subscribe to the Glam Bag by ipsy ($10/month)
Makeup bags personalized just for you! ipsy was founded by Michelle Phan. Receive 4-5 beauty products every month. Share your Looks. Get great beauty offers.